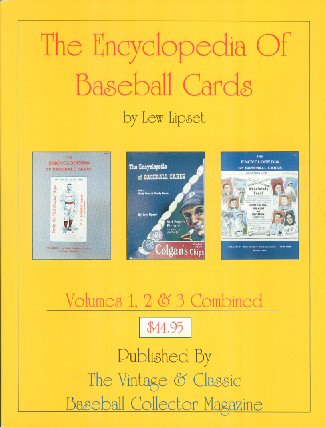 Vintage collectors may have different opinions about which are their favorite vintage baseball card sets. There is universal agreement, however, that the three volumes written and originally published by Lew Lipset in the mid-1980s provide the foundation for any vintage card collector's library.
Old Cardboard has a limited supply of Lew Lipset's Encyclopedia of Baseball Cards. These are new copies of the three volumes combined into a single durable binding. It is considered absolute must reading by most vintage collectors. The three volumes cover all important card sets in three key collecting groups: 19th century cards (N-cards), early gum and candy issues (E-cards) and 20th century tobacco cards (T-cards).
The three volumes consolidated into this book include:
Volume 1 -- 19th Century Cards
Volume 2 -- Early Gum and Candy Cards
Volume 3 -- 20th Century Tobacco Cards
We are offering the 350-page consolidated Encyclopedia (while supplies last) at $29.95 plus $5 shipping. The book can be ordered from the Order Processing page.