---
This set is actually made up of two different subsets. They are assigned the designation PC742 in the American Card Catalog, and have since acquired the suffix -1 and -2 to distinguish the two sets.
Cards from subset 1 are labled Boston American Series; those from subset 2 are labled Boston Daily American Series. Both sets ...........
Set PC742 features six players from the 1912 World Champion Boston Red Sox. It was produced by one of the city's newspapers. On these cards, the player's name is centered in the lower margin .....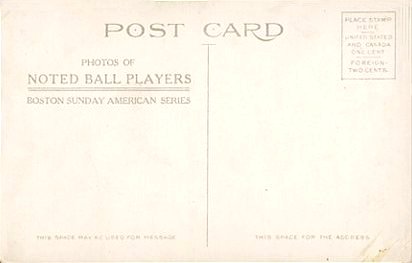 PC742-1 Back

Needs research:
1) 2002 Krause only lists one 6-card set, p. 42. It does not distinguish between the two subsets.
2) Above examples came from Hunt Auctions with the following caption: Lot of (3) Boston related player postcards: 1912 Jake Stahl Boston Amer. Series PC 742-1: VG, 1912 Heinie Wagner Boston Daily Amer. PC742-2: VG-EX, and 1908 Cy Young A.C. Williams postcard: GD-VG

3) Still another "Boston American Series" design is reported on the vintageball.com website (see image at right). A brief writeup on the website is as follows: This card does not appear in any of the baseball card or postcard catalogs. Issued by the Boston American newspaper, it depicts HOFer Rabbit Maranville of the Boston Nationals, c.1912-15. The Boston American issued a beautiful series of postcards in 1912 of the cross-town Red Sox team, that has been cataloged.
4) from Net54 post (2/5/2007) ANTIQUE BOSTON RED SOX BASEBALL CALENDAR 1910 NEAR MINT RED SOX BASEBALL CALENDAR 1910..AT BOTTOM OF CALENDAR, COMPLIMENTS OF THE BOSTON AMERICAN..ASSUME THIS WAS AN INSERT IN A NEWSPAPER OR MAGAZINE CALLED THE BOSTON AMERICAN.. I THINK A BOSTON NEWSPAPER MOGUL ONCE OWNED THE RED SOX ? ....CALENDAR MEASURES 10 X 14 INCHES..I HAVE NO DOUBT THAT THIS IS AN OLD CALENDAR AND ASSUME IT IS A 1910 PRINT OF A RED SOX CALENDAR THAT WAS INSERTED INTO A PUBLICATION AS A MARKETING PREMIUM...THERE ARE 20 TEAM MEMBERS ON THE CALENDAR..MANAGER PATSY DONOVAN AND PLAYERS JAKE STAHL, LARRY GARDNER, HARRY LORD, HEINIE WAGNER, TRIS SPEAKER, HARRY HOOPER, DUFFY LEWIS, BILL CARRIGAN, CHARLIE HALL, HAP MYERS, HARRY NILES, FRANK ARELLANES, EDDIE CICOTTE, RAY COLLINS, FRANK SMITH, ED KARGER, JOE WOOD, AMBY McCONNELL AND ? THONEY... GAME DATES ARE COLOR CODED ON THE CALENDAR- BLACK DENOTES AT HOME GAMES, GRAY DENOTES OUT OF TOWN GAMES, WHITE DENOTES NO GAME SCHEDULED.. TEAMS THEY WERE PLAYING AGAINST ALSO NOTED ON THE DATES OF PLAY....FOUND THIS IN THE BACK OF AN OLD SCRAPBOOK THAT WAS FULL OF VICTORIAN TRADE CARDS AND HAD LOTS OF MAGAZINE AND NEWSPAPER CLIPPINGS, ARTWORK AND VINTAGE MOVIE STAR BROADSIDES IN IT NOT PASTED IN...THIS CALENDAR WAS LAID IN LOOSE, WAS NOT GLUED DOWN...VERY GOOD CONDITON..ONE VERY SMALL TEAR THAT JUST BARELY GOES BEYOND THE WHITE MARGIN AREA... SOME SHADOWS IN PHOTOS.

References:
1)

See also:
1) Net54 post by Michael Peich (3/15/2011)