The following is a summary of vintage card events coming up in the next 90 days. For the most current listings of additional vintage card shows and auctions, see the Key Events Calendar, accessible directly from the home page of the Old Cardboard website.
---
2. PX7 Sweet Caporal Domino Disks by Todd Schultz

Front

Back
Typical PX7 "Domino Disk."
The Sweet Caporal "Domino Disks" (designated as set PX7 in the American Card Catalog), display black and white busts of baseball players on colorful thin cardboard rounds within a metal rim. They measure 1-1/8 inches in diameter--or a bit larger than a quarter (examples shown here are enlarged roughly 50% to show more detail).
There are 129 players and managers represented in the set. Each can be found with two different portrait poses, showing the subject with either a full face or thin face. The full-face disks are found more than twice as frequently, although PSA makes no reference to either on its holders or in its pop reports.
The pose distinctions are often subtle, with the thin-faced disks generally better detailed and the player name positioned in a slightly different place on the uniform. Shown here are the two versions of Danny Murphy, which are fairly typical in depicting the difference. A handful of players are noticeably distinguishable in their poses, showing either a straight-on or side view, and these include Lajoie, Chase, McIntyre and Walsh.

Full Face

Thin Face
Full face and thin face versions compared.
With two poses for each subject, the number of disks in the base set therefore totals 258. Included within this number are seven players whose disks show a team or spelling change, as well as more than a dozen instances where one of the player's disks shows a full or partial logo on the cap that is missing from its counterpart.

Still, there remains only one pose associated with each version, such that these "variations" do not increase the 258 total. Thus Ty Cobb, for example, can be seen with or without the logo on his cap, but this is simply another way of distinguishing the full face disk ("D" showing) from a thin-faced Cobb (no "D").

The backs of the disks are oriented upside down in relation to the fronts. They state the word "Domino" over a graphic of that familiar game tile, with the manufacturer's "Factory No.30 2nd Dist.N.Y." designation underneath.

The vast majority of the disks have the same colors on front and reverse--either red, blue or green--but all subjects are also found in a shade of brownish purple on the front with one of the other colors on the back. There is no brown front-back combination. Also, the brownish disks only show the full face version of the player/manager--no thin faces--and the "Sweet Caporal Cigarettes" banner ad along the top is aligned differently over the team identification below it when compared to disks of the other colors. See Turner examples below.
All disks with
brown fronts are
found with all
three back colors
(red, green & blue,
but not brown)
Examples showing all four front colors and all three back colors found in the PX7 series.
Altogether, there are four full-faced and three thin-faced colors for each subject, and because a brown-front disk can carry any of the three other colors on the back, there are nine possible front-back color combinations for each player or manager, for a total of 1161 different disks.
As if that were not daunting enough for a master set collector, there are also different domino pip combinations on the back of the disks. There is no apparent rhyme or reason for the numbers selected, but it seems they were not randomly assigned, as each subject is found with only two or three combinations on the full-face version and a like number of others on the thin-face variety.
Apart from the pose variations, four players had team changes as a result of trades: Jack Knight was traded from NY to Washington for Gabby Street; Pat Moran was traded from the Cubs to the Phillies, and Doc Scanlan was acquired by the Phils from Brooklyn. Each can be found with either team, but only one team was associated with each pose. Similarly, Tigers pitcher Mullen can be found with either that spelling or Mullin, depending again on pose.
Finally, Art and Owen Wilson were issued in error on each other's teams and then corrected so as to caption them on both the Giants and Pirates, with Art shown in a dark cap and Owen with white. Collectors also will note that Reds' players are dressed in dark jerseys with white name lettering in their full-face poses (except Gaspar), which contrasts with their white apparel and black lettering on thin-faced disks. Chicago White Sox players (except for Matty McIntyre) also change uniform colors and lettering depending on pose.
Front and back of Game Disk
There is a Home/Visitor disk with the silhouette of a generic player against a green (Visitor) or red (Home) background. See inset. Many collectors consider this as part of the set, as do PSA graders (to date, PSA is the only grading company that grades the PX7 disks). However, although this disk measures the same and has red and green coloring like the player disks, there is no advertising for Sweet Caporal nor any mention of dominoes.

Also, the disk appears as a game piece in at least one tabletop game from circa 1916, "World's Series Base Ball Game," where it is depicted in the instructions and included with the other materials. Given this information, it is quite possible if not likely that the Home/Visitor disk is not part of the Sweet Caporal Domino set from a few years earlier.

Dates of Origin

The PX7 disks were issued more than once between 1910 and 1912, which is also the period associated with five of its six sister sets. The five sister sets with overlapping dates of issue are: the 1910-1912 P2 Sweet Caporal Pins, the 1912 T202 Hassan Triple Folders, the 1911 T205 Gold Borders, the 1909-10 S74 Silks and the 1911 T332 Helmar Stamps. In addition, the T330-2 Piedmont Art Stamps share many of the same player images, but were issued a couple of years later (1914). All seven series are based on the same photographic poses, as illustrated in the examples below for Giants infielder Art Devlin (select any image for a more detailed Set Profile).

PX7 (1910-12)


P2 (1910-12)


T202 (left panel)

T205 (1911)

S74 (1909-10)

T332 (1911)

PX7 Sister Sets. (top left): Disk of Art Devlin from the PX7 series along with its counterparts from five of its sister sets. As seen, all six sets are based on the same photographic poses. A seventh "sister" set, the T330-2 Piedmont Art Stamps, also shares the same photo series but was issued a couple of years later (1914) and does not contain a card (stamp) for Art Devlin.

Many hobby resources have the disks originating in 1909, probably because Pat Moran appears captioned with the Cubs, where he last played that season. However, while Moran did not appear for the Cubs in any 1910 games, he was on the team and not traded to Philadelphia until May that year, so the disks could have been issued in early 1910. Although a 1909 year of issue is possible and exact dating is made difficult by the fact that more than 60% of the subjects were on the same team all four years from 1909-12, no advertising or other evidence has established a 1909 origin with certainty.
The Moran Cubs variation carries a thin-faced pose, suggesting that it was among the early print runs, which is at odds with the other six disks showing an updated team or spelling correction, all of which appear with the thin-faced versions of those subjects. A few other players are designated with teams they did not join until after 1910, establishing that the disks were produced in 1911 and 1912 also.
The above-referenced Knight for Street trade did not occur until February, 1912, yet the team changes were made. Cy Young is shown only as a Boston Rustler, a team he did not join until mid-August 1911, and Clark Griffith is found only with a Washington designation, where he signed a contract to manage in October, 1911. Each of these HOFers is only identified with their previous teams in the P2 pin set, indicating that production of the two similar collectibles did not coincide exactly.
Several questions remain unanswered about the PX7 disk set, including how and when they were distributed, whether they were issued simultaneously by different printers and/or in different locales, and what type of baseball game, if any, was contemplated by including dominoes. Some collectors spurn them as too small in size, too large in number and/or too round in shape, but they have a loyal following that appears to be growing.
A Set Profile, along with a Checklist and Gallery of all players for the PX7 disks is provided on the Old Cardboard website.
---

OC eMagazine Sponsor
---
3. Downunder Discovery Uncovers Mel Ott Rookie? Card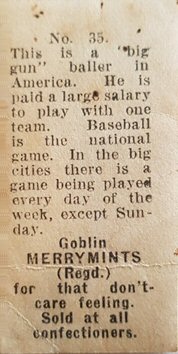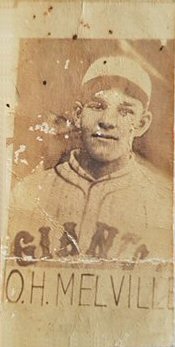 Old Cardboard visitor Steve Flemming from Australia recently brought to our attention what very well could be the earliest Rookie Card for Giant's Hall-of-Famer Mel Ott.
The exceedingly rare card was previously unknown to veteran collectors from Downunder. Flemming does not own the card, which was discovered by a collecting friend who purchased it as part of a mixed lot at a Melbourne auction in the midst of the Covid-19 lockdown earlier this year.
Illustrated at right, the card is part of a numbered Australian set for which only eight subjects are now known. The Ott card is the only known example that features an American baseball player. As indicated on the card back, the set was sponsored by Goblin Merrymints, an Australian confectionery company.
The series had previously been documented in the "Blue Book"--an Australian reference more or less equivalent to the American Card Catalog--in a set identified as "Australian Sportsmen."
The photographically produced cards are sepia in tone and measure 1 by 2 inches (26 by 52 millimeters). The other known cards feature several Australian cricket players as well as a golfer, a tennis player and, curiously, a "Prize Winning Bull" from the 1926 Easter Show in Sydney.
As illustrated in the card images above, Melvin Ott's card is incorrectly identified in a panel at the bottom as O. H. Melville (it would have been difficult for the producers to get it more wrong).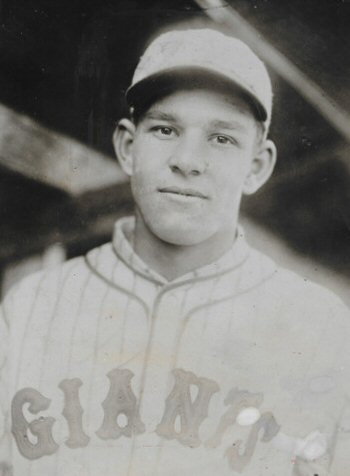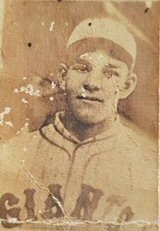 The image on the Merrymints card, however, is beyond doubt that of a very young Mel Ott, as seen by comparing the images at left.
The black and white pose is a known image provided by Old Cardboard reader Derek Granger. It was taken in 1926 when Ott was barely 17 years old.
A card number is printed at the top of all known card backs from the set. The eight known numbers range from #3 through #35. Prior to the discovery of the Ott card, the highest known number was #18. The Ott card find, therefore virtually doubles the apparent number of subjects originally printed, with twenty seven cards in the sequence still unknown.
The card numbers on the backs are followed by a brief description of the subject. Ads for "Goblin Merrymints" are printed at the bottom of the card backs. Select the Ott card back above for a slightly enlarged view.
Set Date of Issue (A Mystery That Matters)
Flemming makes a strong case that, based on the card subjects' careers and other known events, the Merrymints cards have always been considered to have been produced in the 1926-28 timeframe.
According to Flemming, "All of the known subjects from the set [before the Ott card discovery] were last active between 1926 & 1928. The Show Bull card depicts the Grand Prize Winning Bull from the 1926 Sydney Easter Show. Cricketer Herbie Collins retired from Test Cricket at the conclusion of the 1926 tour. Sam Everett was not selected by Australia to tour again after the 1926 Tour of England. These and other clues from the other cards in the set have resulted in an estimated date of production almost certainly prior to 1928 (and probably closer to 1926)."
The fronts and backs of two other known cards from the set are shown below for comparison.
| | | |
| --- | --- | --- |
| #7 Herbie Collins (Cricket Star) | | #18 Carnige Clark (Golf Star) |
However, the 1926 baseball season was Ott's first year in the Majors. He had just turned 17 years old and certainly was not yet a household name in America, let alone in Australia. For most vintage baseball collectors today, therefore, it is hard to fathom that the Australian card was produced before the early 1930s, if not later.
Any explanations or speculations from our readers about this seemingly wide discrepancy in dates of issue would be most welcome.
It should also be noted that, according to the Old Cardboard Hall of Fame Rookie Card database, the earliest previously known Ott rookie card was considered to be one of several issued in 1929.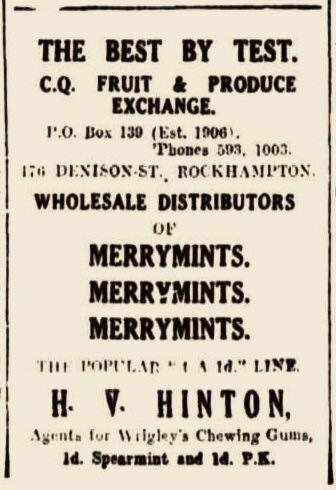 Very little is known about the company Goblin's Merrymints Ltd. or the products they offered. According to Flemming, "longtime members of the Australian Cartophilic Society have stated that these were the only ones known to them in more that twenty years of collecting."
"It appears," Flemming continues, "that the Merrymints product (a confectionery item) was retailed for only a short time--two to three years maximum--and that it was at some point acquired by Griffith's Brothers, a long time Confectionery supplier in Australia."
One of the few artifacts of the existence of the Merrymints product is an ad that ran in the September 24, 1927 edition of the Rockhampton (Queensland) Morning Bulletin (clipping shown here).
A Set Profile and Partial Checklist for the Merrymints cards is provided on the Old Cardboard website.


---
4. Blum's Bulletin Premiums (and the Ruth Super Premium)

Relatively little is known about the 21 "regular" premiums (plus a remarkable "super premium") in this set from the early 1930s.

The set is not listed in the American Card Catalog. The premiums are unnumbered and have blank backs.

The black and white player images on the premium fronts are printed against a cream colored background. The image on each premium is enclosed inside a 3/8-inch printed green or red frame--a design using small drawings of baseballs placed side by side. The player's name and career summary are printed below the image and inside the frame of baseballs.

Narrow Format (Type 1)

Wide Format (Type 2)
(both premiums shown about 1/3 actual size)
The margin at the bottom of the premiums contains a credit line for the card's producer that reads: "Compiled by Fred J. Blum, Publisher, Blum's Baseball Bulletin."
The regular issue premiums were printed on thin semi gloss stock in one of two size formats. Both are approximately 13-3/4 inches high.
Eight player premiums are 9-1/2 inches wide (sometimes referenced in the hobby as Type 1), but thirteen premiums that measure a wider 11-1/2 inches were also produced (Type 2). The examples above (both shown at about 1/3 actual size) illustrate the relative size of the two formats.
Each player is known in only one size and baseball frame color format. All four known red-bordered premiums are printed in the wider format. They include: Gehrig, Grove, Ruth and Toporcer.
The Ruth Super Premium

Ruth Super Premium (Type 3)
Front

Premium
Back
(shown about 1/3 actual size)
In addition to the 21 premiums in the Blum's Bulletin set described above, a second premium of Ruth was reported several years ago by Old Cardboard subscriber Doug Goodman.

According to Goodman, the Ruth super premium measures 8-1/2 by 11-3/4 inches, a little smaller than those in the regular issue. It was printed on tan stock with a matte finish rather than the white semi gloss stock used in the regular issue.

The extra premium uses the same graphic used for Ruth in the regular Blum's Bulletin set. However, there is no frame of stacked baseballs as with the regular set. Further, the narrative at the bottom of the card is printed in red in a single wide column rather black printing with two narrower columns on the regular issue. The red narrative suggests that the premium was distributed after the regular premiums (and after Ruth's career had ended), apparently intended to be framed and used in "a place on the mantelpiece."

The sponsor of the card is stamped on an otherwise blank back. It reads: "Compliments of Blum's Baseball Bulletin."

For purposes of checklisting and the display of an image gallery, we have classified the Ruth Super Premium as being a "Type 3" format.

A Long-Running Sports Bulletin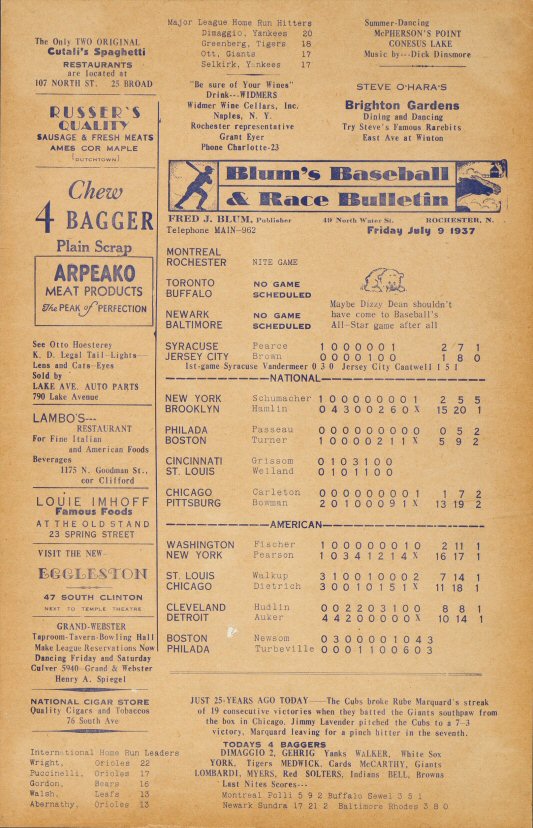 Typical Format of 1930s Blum's Bulletin
(click to enlarge)

Blum's Bulletin was a long-running sports news sheet that featured mostly baseball scores and at times horse race results gleaned primarily from a Western Union sports ticker. Founded by Fred J. Blum in 1903, the Bulletin was distributed only in Rochester, New York.

As seen in the example Bulletin at right, issued Friday, July 9, 1937, the one page sheet contained baseball (and sometimes horse race) results along with small ads from a variety of sponsors. As with the premiums, the Bulletin is blank backed.

At its peak, the Bulletin was distributed Monday through Saturday afternoons and was displayed in familiar wooden racks in hundreds of city taverns, restaurants, grocery stores, pool halls and bowling alleys.

Upon Blum's death in 1955, production and distribution of the Bulletin was continued by Blum's son (Fred G. Blum) until it was eventually discontinued in 1981 after a 77 year run. The demise of the Bulletin was attributed to expanded Radio and TV sports coverage, as well as the exodus of many of its readers to the Rochester suburbs.

A Set Profile, Player Checklist and complete Gallery of Premiums for the Blum's Baseball Bulletin set are provided on the Old Cardboard website.




---

5. Recent Additions to the OldCardboard.com Website

We are continually expanding the Old Cardboard website with more set profiles, checklists and card galleries. Recent (past 30-40 days) additions include:

Set Profiles have been added for:
1927? Griffith's Merrymints


Set Checklists have been added for:
1909-12 PX7 Domino Disks
"1927? Griffith's Merrymints
1933-35 Blum's Baseball Bulletins


Set Galleries have been added for:
1909-12 PX7 Domino Disks
1933-35 Blum's Baseball Bulletins


Updating the website with checklists and full set galleries for additional vintage sets is an ongoing project, so check back often to check out the latest additions. There are now many thousands of card images on the website and the list continues to grow every month. We welcome and encourage feedback with checklist additions, images of cards missing from our galleries, error corrections and suggestions. Please send all feedback to editor@oldcardboard.com.

Beyond the above pages recently added to the Old Cardboard website, we continue to expand and refine our eBay Custom Search Links to make finding vintage baseball cards on eBay easier than ever. The results of these searches are continuously changing, so check back often to find the most recent eBay listings. Samples of a few of these custom searches are provided below. Hundreds more are provided on the Set Profile pages throughout the Old Cardboard website.

---
6. News Briefs (A Digest of Recent Hobby Happenings)

1914 Chicago Examiner Supplements Gallery now Complete: Thanks to Old Cardboard reader Mark Peavey, we have now completed the gallery for the 1914 Chicago Examiner set of team supplements. The three known supplements include all three of the Chicago Major League franchises at the time. They are (in the order issued): the Whales (Federal League, issued April 26, 1914); the Cubs (National League, issued May 3, 1914) and the White Sox (American League, issued May 10, 1914). A Set Profile, Checklist and Gallery for the supplements are provided on the Old Cardboard website.

No Looking Back: Eager to put 2020 and Covid-19 in the rear view mirror, most card convention organizers have now posted their 2021 show schedules on their websites. For these and other hobby happenings for 2021, take a look at the Old Cardboard Calendar of Events. We expect to be adding a number of hobby auctions and other events as they are announced over the next few weeks.
---
Lyman and Brett Hardeman
Old Cardboard, LLC.
Old Cardboard LLC. was established in December 2003 to help bring information on vintage baseball card collecting to the hobbyist. Produced by collectors for collectors, this comprehensive resource consists of three components: (1) Old Cardboard Magazine (currently on hold after printing 34 Issues), (2) a companion website at www.oldcardboard.com and (3) this eMagazine. The Old Cardboard website contains well over 1000 pages of descriptive reference information for baseball card sets produced fifty years ago or longer. Each of the set summaries has a direct set-specific link to

auctions and a similar link to

's powerful search engine for further research. The website also includes a Show and Auction Calendar, an eBay Top 50 Vintage Sellers List, and much more. As a result, the Old Cardboard website makes a great "Alt-tab" companion for vintage card shoppers and researchers. Each Old Cardboard eMagazine provides three or four articles about vintage baseball card sets or related memorabilia, current hobby news, upcoming shows and auctions, and updates to the website. It is published quarterly around the middle of the last month of each quarter. For a FREE subscription to the eMagazine, please visit the website at www.oldcardboard.com. If you find this information resource helpful, please tell your friends. We need your support and your feedback. Thank you.