5. NAXCOM Vintage Invitational 2 (VI:2)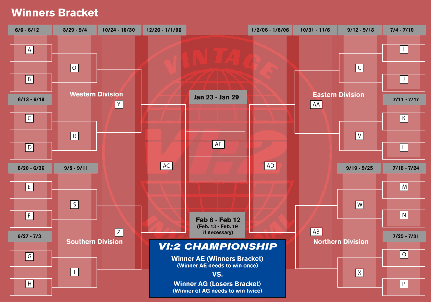 In Old Cardboard eNewsletter #10 (February 2005) we reported the progress of NAXCOM's Vintage Invitational online sales competition, as well as the contest winner, Memory Lane, Inc. of Tustin, CA. The event was a success--so much so that a sequel, Vintage Invitational 2 (VI:2), has now been launched.
With total cash prizes of $14,500, the rules of the competition are patterned after the annual basketball "March Madness" playoffs. Each week (midnight Sunday to midnight Sunday, PDT), a pair of vintage dealers will compete to sell the highest dollar amount of vintage material (defined as cards and memorabilia produced before 1980), with the winner advancing to the next level of the playoffs. Top vintage buyer throughout the contest is awarded $1,000.
NAXCOM has nurtured the marketplace for baseball and other sportscards by following a model similar to that of the Wall Street securities exchange. Thus, buyers and sellers post "Bid" and "Ask" orders, respectively, with the gap between the two narrowing until a deal is made. Unlike other auction formats, items can be listed on NAXCOM.com without charge unless the item is sold. The company is using the contest to help stimulate more transactions for vintage (pre-1980) items. Because the contest should benefit both sellers and buyers of vintage material, it is one that Old Cardboard gladly supports.
With qualifying rounds now over, the VI:2 contest begins this week (Monday, June 6). We wish all contestants, including vintage sellers and buyers, much success in the competition, and will report from time to time the contest status and results on these pages.
Further details about Vintage Invitational 2 are provided on the NAXCOM website.