---
2. Set Profile: 1949 Gallina Blanca

Album Cover


Album Page (Misc. Sports)
(baseball in 2nd row)
One of Old Cardboard's international subscribers, Fran y Pilar from Valencia, Spain, has provided us information about a card set produced in his country in 1949. According to Fran, "the set was published by Productos Gallina Blanca (White Chicken Products). It was the company's second distribution of collectible cards."

A hardcover album was also produced to display the cards. Like many Cuban and other album card sets of period, the Gallina Blanca "cards" are printed on paper stock and might be more appropriately described as stamps by some collectors.

"This huge album," according to Fran, "was constituted by 87 series with a total of 792 cards. Of these, 64 series were about folklore, monuments, cinema stars, etc... and 23 series were devoted to sports. Among the sports series you can find a lot of series about the Spanish soccer teams, with others about boxing, athletics, swimming, cycling, motorism. and several about some other sports in sub-series of three cards. In this last case we find the sub-series about Pelota Base (Baseball)."
| | | |
| --- | --- | --- |
| Pelota Base | Nº 1 Momento de "batear" | Nº 2 Llegada a 2ª base |
The album measures 25'5 cm (10 inches) by 27'5 cm (10-1/2 inches) and the cards about 3'7 cms [1-1/2 inches] by 5'3 cm [2-1/8 inches]. Fran also notes that "These cards were enclosed inside a lot of different Gallina Blanca products like chewing gum, cooking cubes, soda powder and even milk."

As illustrated in the album page and baseball sub-series above, each sport is represented by a row of three cards. Baseball is featured in the second row of cards on the album page. The card in the first column has no number and is labeled by the name of the sport ("Pelota Base" in this example). Cards in each of the other two columns have a number (1 or 2, respectively) along with a label on the album and a title on the card back. The back also has general information about the collection.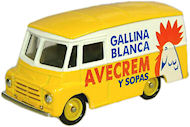 Model Delivery Truck (1950s)

The Gallina Blanca Products company originated in Barcelona, Spain in 1937. Today, seventy-seven years later, the company distributes its various culinary products in over 50 countries spanning four continents. A scaled model of a period company delivery truck is shown at right.

The company produced its first collectible card set and album in 1945, predating the above "Nº 2 Album" by several years. The earlier series, however, did not include any cards with a baseball theme.

For future reference, a Set Profile, Checklist and Gallery (baseball only) of the Gallina Blanca cards are provided on the Old Cardboard website.