3. Featured Card: 1927 Exhibit (The Collegian Movie Series)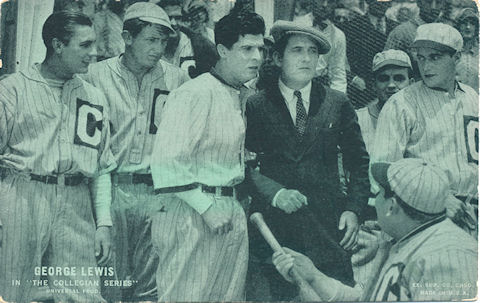 Here is a baseball-related Exhibit card that you don't often see. It is an Exhibit card featuring actor George Lewis in a scene from a 1926 Universal Studios production entitled "The Collegian Series." The card is part of a set of movie cards issued in 1927, different from the 1927 Exhibit set of baseball players described above, which is much more familiar to vintage collectors.
The green-tinted card is labeled in the lower left as "George Lewis in 'The Collegian Series,'" followed by "Universal Prod." The lower right identifies the card producer, "Ex. Sup. Co. Chgo." and "Made in U.S.A." As with all Exhibit cards, it measures just over 3-1/4 by 5-1/4 inches. It is blank-backed.
Although the 44-episode "Collegian" silent film series began in 1926, new episodes (chapters) continued into 1927 and perhaps beyond. Although a distinctly separate set, the format for the Exhibit movie cards closely match those in the 64-card 1927 Exhibit baseball series. Both use the same type style and both cards are tinted in green. That, plus the fact that several other known cards in the movie set depicted films released in 1927, strongly suggests that both sets were produced that year.
Each episode (chapter) in the Collegian Series is said to have been complete in itself. The narrative behind the scene shown on the card is perhaps lost in time. Since the theme of the series was college life in the mid-1920s, there were certainly other episodes not related to sports. Any additional information from our readers about the content of the series would be much appreciated.
Lewis' Long Career in Films
The "Collegian Series" films are briefly described in movie references as a serial of "two-reeler" episodes depicting college life of the period (note: "two-reelers" generally refer to film reels about 20 minutes each in length, usually containing silent comedy themes).
George Lewis, the star of the series, was born in Guadalajara, Jalisco, Mexico. He played in dozens of films from the 1920s into the late 1960s. He is probably best known for playing the father of Don Diego de la Vega (Zorro) in the 1950s Disney television series "Zorro."
Sports themes seem to have been popular during the mid-1920s when the Exhibit card set was produced. Another example from the set is provided at left, courtesy of Exhibit collector and Old Cardboard author Adam Warsaw. The card features Red Grange in a scene from the movie "One Minute to Play."
While the labeling indicates that the two cards are from the same set of movie cards, other cards from the set are known to have been printed with other (non-green) color tints.