On the "Baseball Advertising Trade Cards" Home Page, eight trade card sets as defined in the American Card Catalog are described and compared. A continuation page profiles numerous other cards that were produced as part of multi-card sets. Below, the discussion of baseball trade cards extends to additional cards that (as least so far) have not been identified as part of any set. They are sometimes referred to as Trade Card Singles.
Trade Card Singles (not part of sets) are grouped into two categories: those with titles on the card and those without titles. Those cards that are Titled are listed below. Those that are Untitled are profiled on a separate web page.
Trade Card Singles (Titled) are enumerated on pages 72-75 in Frank Keetz book. The cards within this group are profiled below.
Note: The numbering and sequencing of the cards in this group are for reference purposes and generally follow that used by Keetz in the third edition of his book. As new discoveries are added, these numbers may also be adjusted.
---
#1 "A Double Curve"
3 x 8-1/4 inches
An unusually wide landscape oriented card shows pitcher and batter facing off. Batter is resting his right foot on a stump. Large tan panel in middle is reserved for sponsor's imprint. "R005" marking in lower left corner.
---
#2 "America"
3-11/16 x 5 inches
Featuring a young child in a vignetted baseball pose, this card is part of a set of otherwise non-baseball themes. All cards in the set are captioned with the name of a country and carry a theme that represents the country. A "McLaughlin's xxxx Coffee" ad is also positioned at a slight incline in a lower corner of the image. Other countries represented in the set include Australia, China, England, Fiji Islands, France, Germany, Malay Islands, Russia, Spain and Sweden.
Note: variations have been noted for this set and a very similar but different set was produced by McLaughlin's that also features a second theme in a circular inset on the card.
* * * * * * *
The W. F. McLaughlin Coffee Company was founded in Chicago in 1852. The highly successful enterprise flourished until it was acquired by the Kraft Company in 1968.
---
#3 "Base ball"
2-5/8 x 4-1/4 inches
This bright multicolored card (titled simply "Base ball") shows a batter and catcher as they await a pitch.
A bat, three balls and a glove are pictured in the upper left margin. The words "Les Sports Modernes" in the lower white border indicate that the card may have been part of a multisport set and perhaps distributed in France.
The contents of the card back are currently unknown.
---
#4 "Base Ball And Cricket Goods"
3-1/4 x 5-1/2 inches
This trade card was used as a business calling card to promote the Base Ball and Polo Goods of E. R. Coburn & Co. store at 740 Elm St. in Manchester, NH. For 35 cents, the purchaser could acquire a pair of cleats (as illustrated on the card) to fasten to the bottom of his shoes.
The duotone printed card also notes that the company's products could also be acquired via mail order.
---
#5 "Base Ball and Polo Goods"
3 x 5 inches
Another black and white card, this one was used to promote the "Base Ball and Polo Goods" of the E. R. Coburn & Co. store located at 740 Elm St. in Manchester, NH.
The duotone printed card pictures a batter and catcher ready to receive a pitch. The card also notes that the company's products can be acquired via mail order.
---
#6 "Base Ball at our Picnic"
3 x 4-1/4 inches
This card is part of a set that features various sporting events under the title "Xxx... at Our Picnic" (where Xxx is the sport featured on the card). Known sports represented in the set include "Base Ball," "Foot Ball" and "Lawn Tennis." Others may exist.
A panel across the bottom of the card is reserved for a sponsor's imprint.
Interestingly, the umpire in the image is completely protected in a "bird cage" enclosure.
---
#7 "Base Ball Bank (Dark Town Battery)"
3-1/4 x 5-1/4 inches
Among the most valued of all baseball trade cards, this multicolor card is used to promote a "Base Ball Bank" mechanical bank. The very rare card fetches a price approaching (if not exceeding) that of the bank that it promotes.
Below the title, brief instructions are provided on how to operate the bank.
Check out this excellent YouTube video that describes and demonstrates the operation of a working Dark Town Battery bank.
---
#8 "Base=Ball Bank (No. 302.)"
3-3/16 x 5-1/2 inches
Another trade card promoting the Base Ball Bank. This less attractive duotone version nevertheless is also very rare and commands high prices from baseball and bank collectors alike.
As with the color version above, the card is titled Base Ball Bank and illustrated with an image of the bank that it promotes, followed by brief specifications for the bank and instructions on its operation.
An imprint of the banks manufacturer, The J. & E. Stevens Co. of Cromwell, Connecticut, is printed at the bottom (see example at right). Cards without the manufacturers imprint are also known.
* * * * * * * * * *
The J. & E. Stevens Company was established in 1843 as a hardware factory by brothers John and Elisha Stevens. By the 1870s, it became the largest manufacturer of cast-iron toys in the country. The company is credited with the manufacture of more than 300 models of toy banks between 1869 and 1890. The company would continue into the late 1950s before ceasing operations.
Check out this excellent YouTube video that describes and demonstrates the operation of a working Dark Town Battery bank.
---
#9 "Base Ball Combination Room"
3-1/8 x 4-5/8 inches
Card promoting the Wm. F. Vogel "Base Ball Combination Room" at Fifth and Shawnee Streets in Leavenworth, Kansas. Apparently a cigar store with baseball "scores received by innings over private wire." National League and Players League schedules are printed on the reverse.
Ads at each end of the card also claimed the best 5-cent and 10-cent cigars in the city.
---
#10 "Base Ball Outfits"
2 x 3-1/2 inches
Well known baseball equipment supplier Wright & Ditson distributed this trade card.
The black and white card pictures a player with outstretched arms about to catch a ball.
The company's products ("Bats, Balls, Masks, Gloves, Bases, Scorebooks, Uniforms, etc.") are also promoted on the card.


---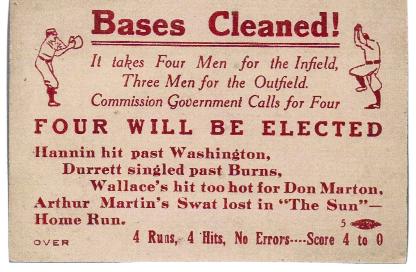 #11 "Bases Cleaned!"
2-3/4 x 4 inches
This unusual card combines a baseball theme with politics to focus on four men running for public office. Two small graphics (a catcher and a pitcher) are printed on the upper left and right side of the horizontally formatted card.
---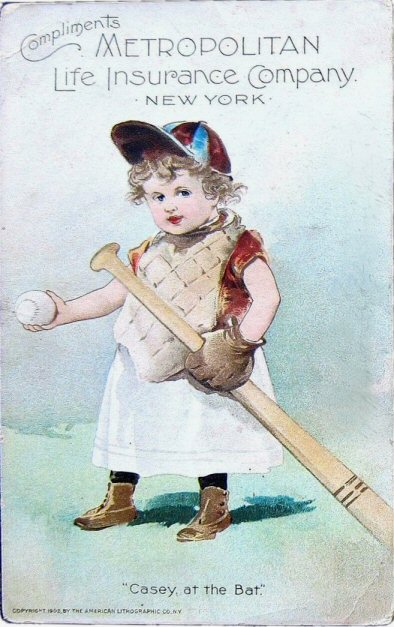 #12 "Casey at the Bat."
3 x 5 inches
Titled "Casey at the Bat," this card features a young girl holding a bat and ball and wearing a baseball cap and chest protector.
The card was distributed in 1902 by the Metropolitan Life Insurance Company of New York.
The borderless multicolor card is found mostly measuring 3 by 5 inches although larger (4-3/16 by 7 inch) size variations have also been reported.
The card backs present "A Few Interesting Facts" about the company, which claims to lead "any other company in the United States" in several categories.
---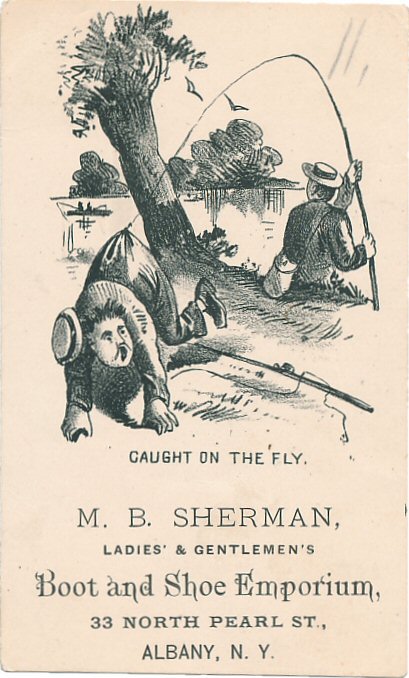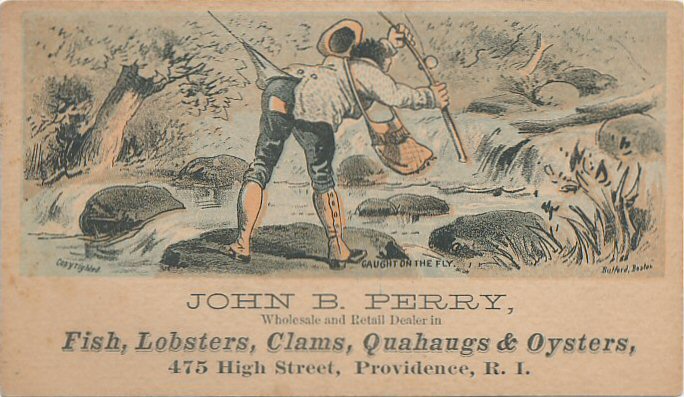 #12b "Caught on the Fly"
See text below for size
Shown here are two of several humorous trade cards with only the caption ("Caught of the Fly") relating to baseball.
The multicolor horizontal card measures 4-1/2 inches wide by 2-5/8 inches tall while the black and white vertical card on the right measures 4-1/2 inches tall by 2-7/8 inches wide.
---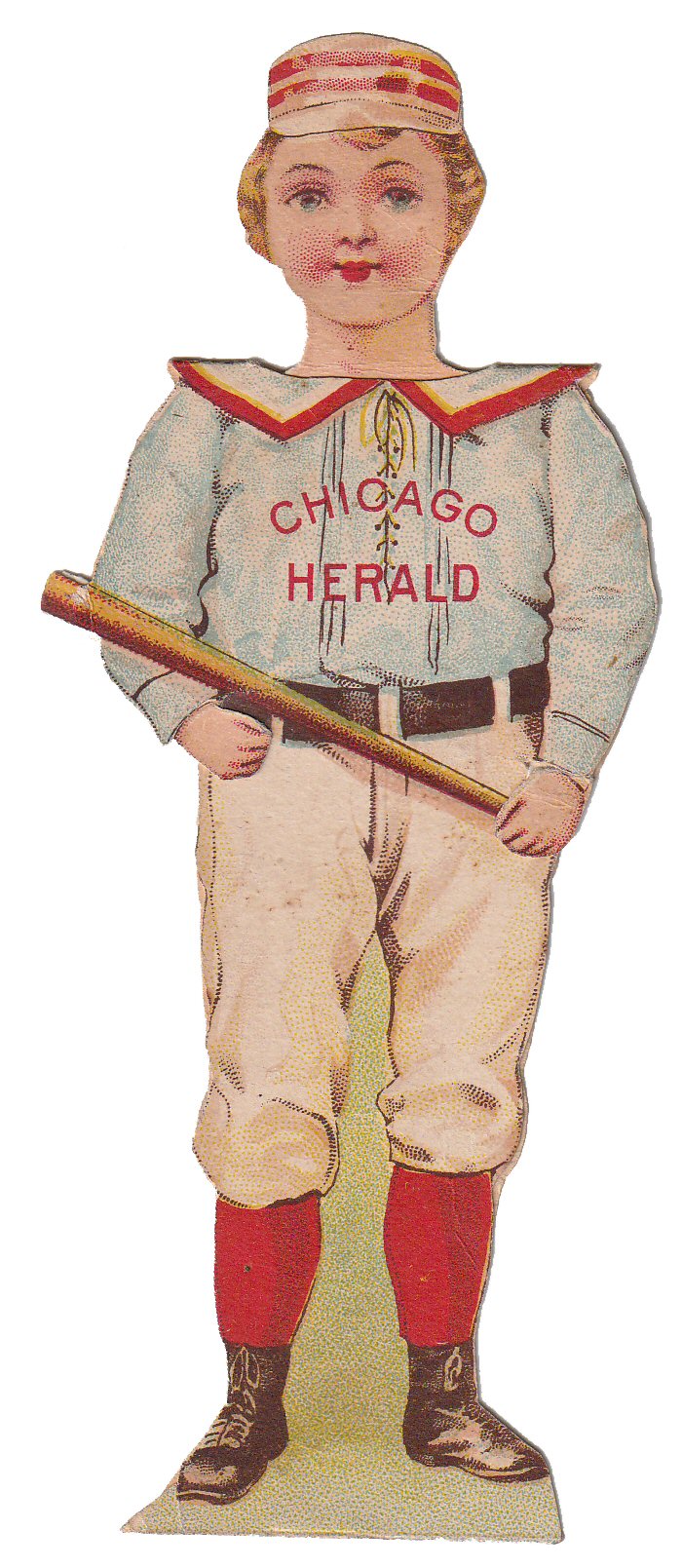 #13 "Chicago Herald"
2 x 5 inches
One of several diecut paper doll baseball trade card issues, this card was sponsored by the Chicago Herald and other newspapers of the period. The subject is a boy in uniform promoting the newspaper and holding a small bat.
The diecut is cataloged generally in the American Card Catalog in a section titled "Paper Dolls." More specifically, it is assigned the number Z7--Newspaper Issues. The Z7 listing likely included different doll designs (along with other sponsors). Sponsors other than the Chicago Herald have been reported for the Boston Globe, the Boston Herald, the Detroit Free Press, and more.
See also #46 (Spalding diecut).
---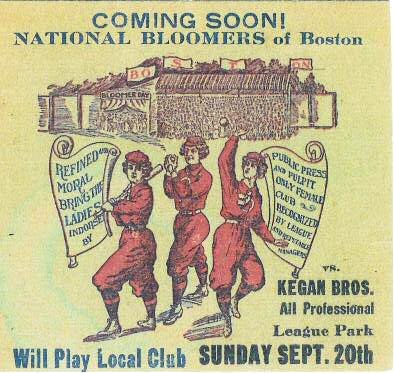 #14 "Coming Soon! National Bloomers of Boston."
3-3/4 x 4 inches

This somewhat unconventionally shaped (nearly square) card announces the arrival on Sunday, Sept. 20 (circa 1900) of the "National Bloomers of Boston." The card features three lady baseball players with a stadium background.

The Boston Bloomers were a well known barnstorming team of the period. They can also be seen at left in a period postcard captioned "Boston National Bloomer Girl's Base Ball Club, L. J. Galbreath, Originator and Owner.

Select either image to enlarge.
---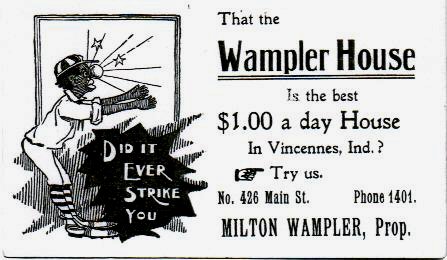 #15 "Did it Ever Strike You"
203/4 x 5-1/4 inches
Those on a budget could stay at the Wampler Bording House--"the best $1.00 a day House in Vincennes, Ind."
The trade card is illustrated by the cartoon of a baseball player in uniform and captioned: "Did It Ever Strike You ..."
---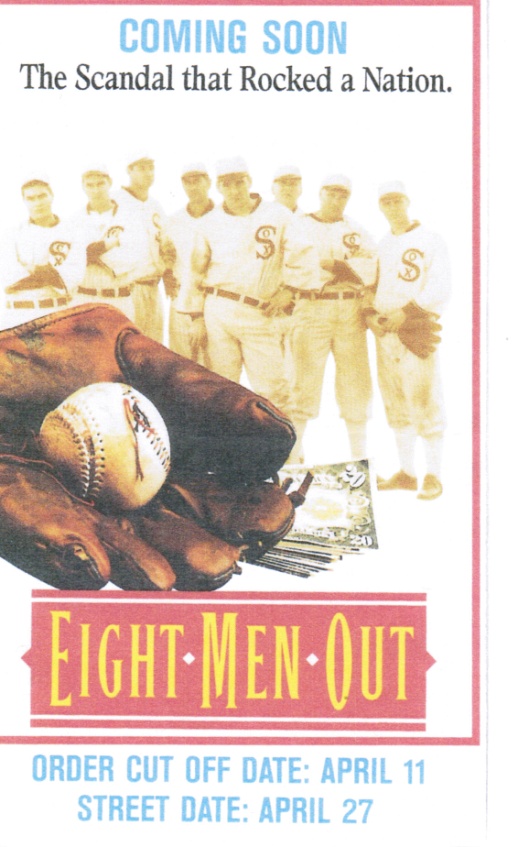 #16 "Eight Men Out"
3-3/4 x 6-3/16 inches
If it were not for its relatively small size, this card might be considered as a movie broadside. At roughly 4 by 6 inches, however, it was more likely distributed as a hand-out for the popular movie Eight Men Out. The same graphics and design were, in fact, used as both movie posters and magazine ads.
All vintage collectors know the back story. Wikipedia perhaps summarizes it best: "Eight Men Out was a 1988 sports drama film based on Eliot Asinof's 1963 book 'Eight Men Out: The Black Sox and the 1919 World Series.' ... The film is a dramatization of Major League Baseball's Black Sox Scandal, in which eight members of the Chicago White Sox conspired with gamblers to intentionally lose the 1919 World Series. Much of the movie was filmed at the old Bush Stadium in Indianapolis, Indiana."

---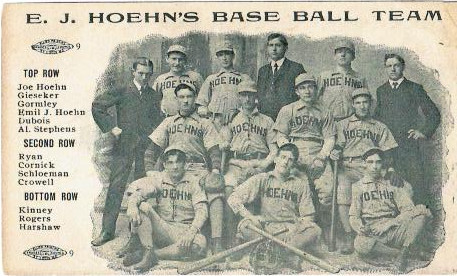 #17 "E. J. Hoehn's Base Ball Team"
2-3/4 x 4-3/4 inches
This card pictures a baseball team apparently used to promote the men's clothing store of E. J. Hoehn, a St. Louis merchant.
Ten players in uniform are identified on the card by their last names. Three additional men (not in uniform) are also pictured and identified. They are: the team sponsor and store proprietor Emil J. Hoehn (top center), Emil's brother Joe Hoehn (top row at left) and another person (Al. Stephens at top right).
---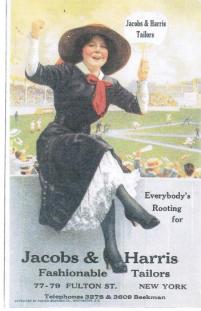 #18 "Everybody's Rooting for ..."
3-1/2 x 5-1/2 inches
Not much is known about this card or its sponsor, Jacobs and Harris, Fashionable Tailors, then located at 77-79 Fulton Street in downtown Manhattan.
With the title "Everybody's Rooting for Jacobs & Harris" the card features a fasionably dressed woman with a multicolor scene of a baseball game in progress in the background. The woman is also holding a fan printed with the name of the sponsor.





---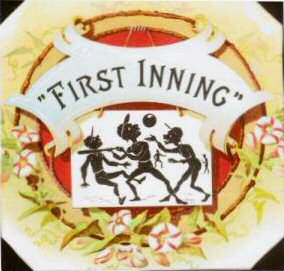 #19 "First Inning"
4 x 4 inches
It is now unclear exactly how and for what purpose this card was distributed.
The multicolored card features three silhouetted players in the foreground with two more in the background. As illustrated, the title "First Inning" and the baseball graphic are surrounded with a flowery wreath.
---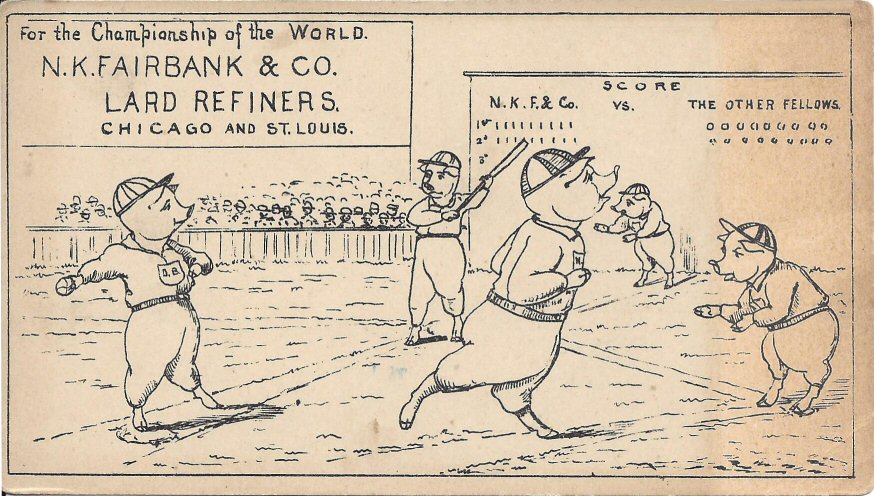 #19c "For The Championship"
x by x inches
Along with #54 below and #208 in the Singles-Untitled section, this card is among several trade cards that feature pigs playing baseball.
As with the sponsor of the #208 cards, the sponsor of this card, Nathaniel Kellogg Fairbank (1829-1903), was also a lard refiner in the meat packing business in Chicago.
---
#20 "Gaining His Point"
This card was listed in the 2nd and 3rd edition of Keetz reference. It has since been identified as part of as set (H804-42) and included in the "More TC Sets" section.
---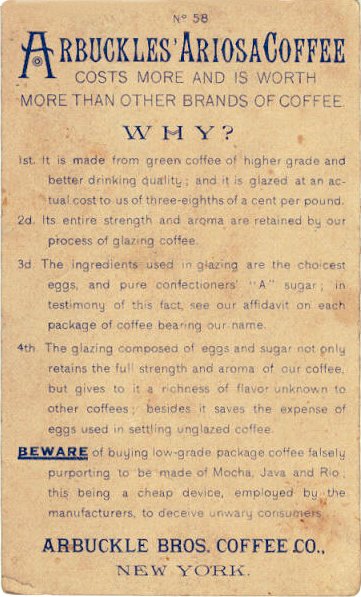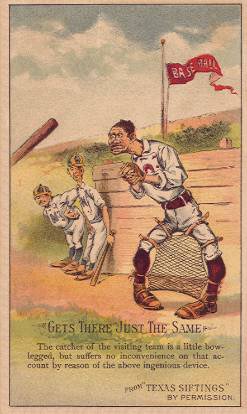 #21 "Gets There Just the Same"
3 x 5 inches
Issued in one-pound packages of Arbuckles Coffee. Card credits Texas Siftings as the source. However, cartoon never ran in Texas Siftings but in Judge magazine. (see Arbuckle Website for details)
Note: this Arbuckle card and the background behind the graphic is described in considerable detail in Old Cardboard eNewsletter Issue #166 (June 2018).
---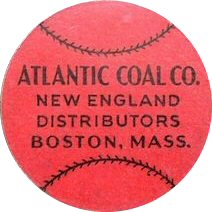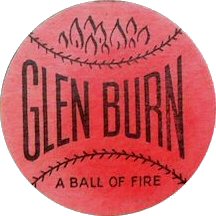 #22 "Glen Burn"
1-3/4 inches diameter
These die-cut "Glen Burn" disks were designed with a baseball theme. Among all other trade cards, they had a unique method of distribution, as explained below.
The Glen Burn disks were mostly red but also found printed on brown or tan stock.
Glen Burn was a coal mine located at Shamokin, PA. The discs measure just under 2 inches in diameter and were widely used as "scatter tags" in the 1930s and 1940s to build brand loyalty among consumers. Scatter tags were small foil or cardboard disks that were scattered into railcar or truck shipments of coal. The colorful labels allowed customers to recognize their favorite brand of coal.
A single-fold brochure. also featuring the company's baseball-related logo, is shown at left.
A circa 1930s postcard of the Glen Burn coal mine is shown at right. The postcard back identifies it as the Glen Burn Colliery with a capacity for processing coal at the rate of 1 million tons per year.
---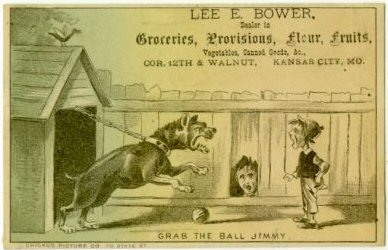 #22b "Grab the Ball, Jimmy"
2-5/8 x 4-5/16 inches

This amusing card featuring a fierce dog guarding a baseball from two boys is found in several variations in format. All cards measure approximately the same size.

The example at right (horizontal layout; dog facing right) is perhaps the least common.

The two closely related variations at left use different artwork (verticle layout; dog facing left) and an expanded caption, "Grab The Ball, Jimmy" with "I'll Wait for You Here" added.

The cards are relatively common and are found with a variety of sponsor messages printed both the fronts and the backs of the cards.



---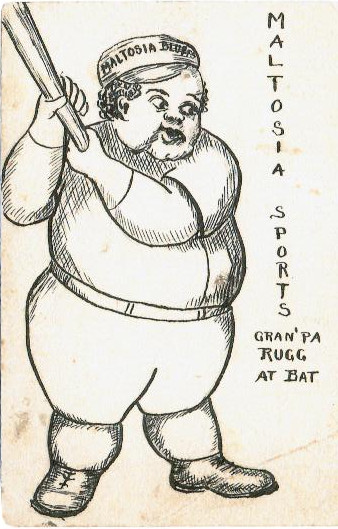 #23 "Gran' Pa Rugg at Bat"
3-1/2 by 5-1/4 inches
Featuring an overly plump batter awkwardly awaiting a pitch, this card is titled "Gran'Pa Rugg at Bat."
Details about the sponsor appear to be lost in time. The only hint is the "Maltosia Sports" label on the card with "Maltosia Bluffs" printed on the batter's cap.




---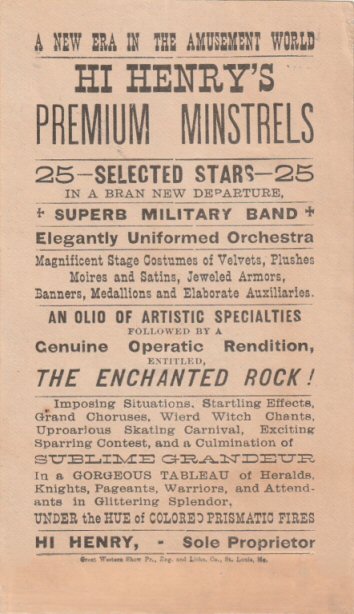 #24 "Great Base Ball Contest Nightly"
3 x 5-1/8 inches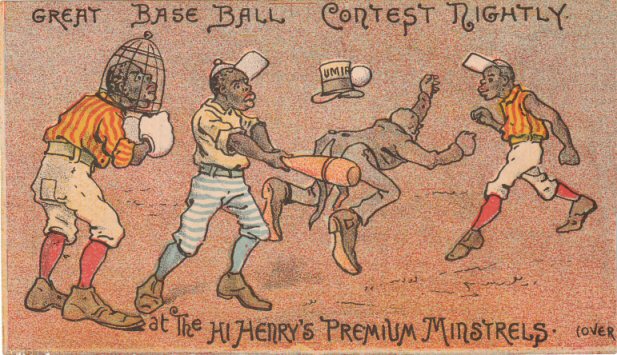 This card promotes a comic routine performed nightly by the Hi Henry Premium Minstrels. Image features black baseball players in a game as the umpire is hit by a ball.
Note: the Hi Henry Minstrels were a popular theatrical troupe that performed at numerous locations during the 1880s, 1890s and into the 20th century. It was founded and run (until his death) by Hiram Patrick Henry (1844-1920).
---
#25 "He May Yet Become President."
See Set H804-38B: This card was included in the third edition of Keetz book in the Single-Titled section. It is now considered part of Set H804-38B which includes one baseball-themed card and three non-baseball and is closely related in design and format to Set H804-38.
---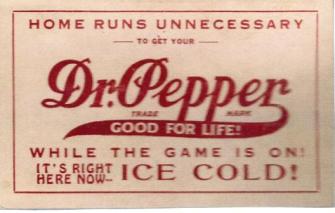 #26 "Home Runs Unnecessary"
3-3/8 x 5-1/4 inches
It is unclear exactly how these trade cards for a popular soft drink were dispensed. However, the baseball-related text printed on the cards offers a hint. Phrases such as "Home Runs Unnecessary" and "While the Game is On, Right Here Now!" strongly suggest that they were likely distributed at ball parks.
---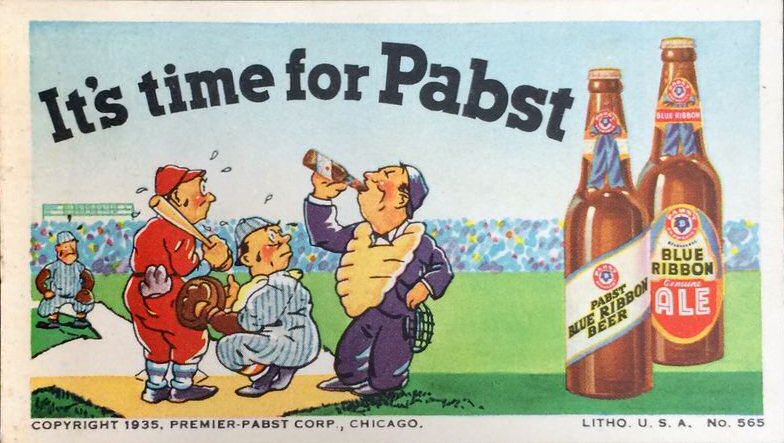 #27 "It's Time for Pabst"
2-1/4 x 4 inches
While the "Home Runs Unnecessary" card above suggest it is time for a soft drink, this one states clearly that "It's Time for Pabst" beer. The multicolor illustration shows the umpire drinking a beer as the batter and catcher look on.
---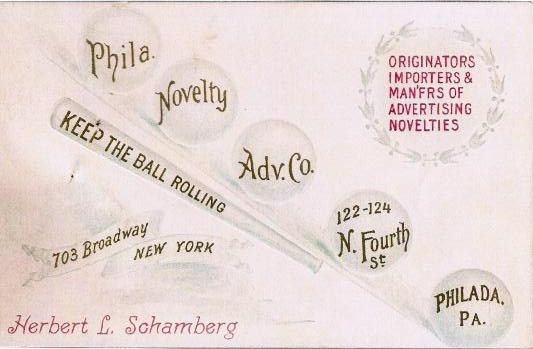 #28 "Keep the Ball Rolling"
3-1/2 x 5-1/2 inches
The Philadelphia Novelty Advertising Co. sponsored this card to promote their promotions. They used a baseball theme to help "Keep the ball rolling."
The attractively designed card is embossed.


---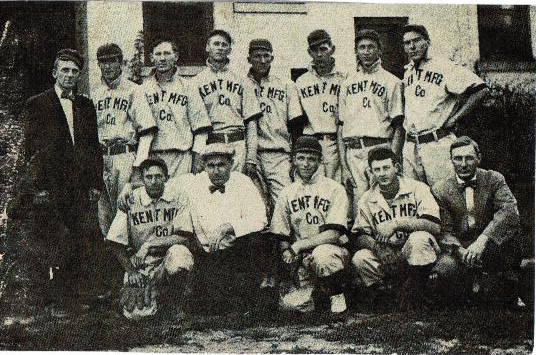 #29 "Kent Mfg. Co."
3-1/2 x 5-1/2 inches
Kent Manufacturing Company not only sponsored a baseball team; they also sponsored this black and white photo trade card. The card shows ten uniformed players plus three others.


---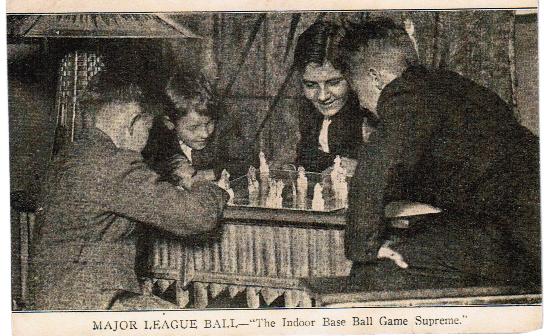 #30 "Major League Ball"
3-1/2 x 5-1/4 inches
This black and white trade card was used to promote another product well known to vintage baseball card collectors. The product was a board game titled "Major League Ball -- 'The Indoor Base Ball Game Supreme'" and was popular throughout the Roaring Twenties.
Details about the die-cut players used with the game can be viewed at the set's Profile Page on the Old Cardboard website.
---
This attractive multicolor trade card promises that you will "Make a Hit" by taking home a bottle of the winning brand I. W. Harper, "the whiskey your grandfather used."
The batter appears to be that of Honus Wagner with "PBC" on his shirt sleeve.
---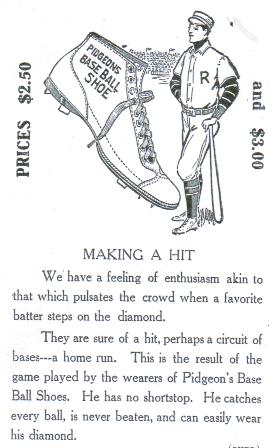 #32 "Making A Hit"
3 x 5-1/4 inches
Unlike the whiskey promoted in the above trade card, this card claims the product that it is promoting to more directly "Make a Hit" by wearing "Pigeon's Base Ball Shoes."
Picturing a player and the image of an enlarged cleated shoe, the black and white printed card places the price of the shoes at $2.50 to $3.00 a pair.





---
#33 "National Base Ball League Season of 1889"
See Set H804-43: This highly desirable card was included in the third edition of Keetz book in the Singles-Titled section. It is now considered part of Set H804-43 which includes eight different items of baseball currency.
---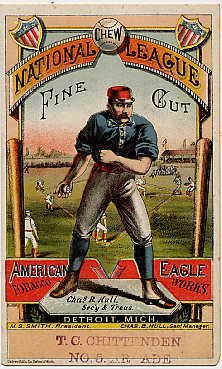 #34 "National Chew League"
3-1/8 x 5 inches

This card was originally distributed in the 1880s to promote National League Fine Cut tobacco, a brand of the American Eagle Tobacco Works of Detroit. As indicated in the fine print near the bottom of the card, the company was run by M. S. Smith, President and Chas. B. Hull, who served as both General Manager and Secretary/Treasurer of the company.

The card features a player with ball in hand with baseball field scene in background. It was printed by Calvert Lithographic Company, a local Detroit printer.

Much to the delight of vintage baseball trade card collectors, in July of 2008, the United States Post Office unveiled a 42-cent stamp with its design based on this 1880s trade card (see image at left). The stamp was produced to commemorate the centennial of the classic song "Take Me Out to the Ball Game." It was designed by Old Cardboard subscriber Richard Sheaff of Scottsdale, AZ, based on an example of the trade card from his collection.

As readily seen in the illustrations, the stamp reproduces in detail all of the graphical elements found on the card. According to designer Sheaff, the stamp is essentially a "Photoshop enhancement" of the trade card. He is an ephemera collector who collects mostly nonbaseball trade cards but happened to have an example of the subject baseball trade card.
---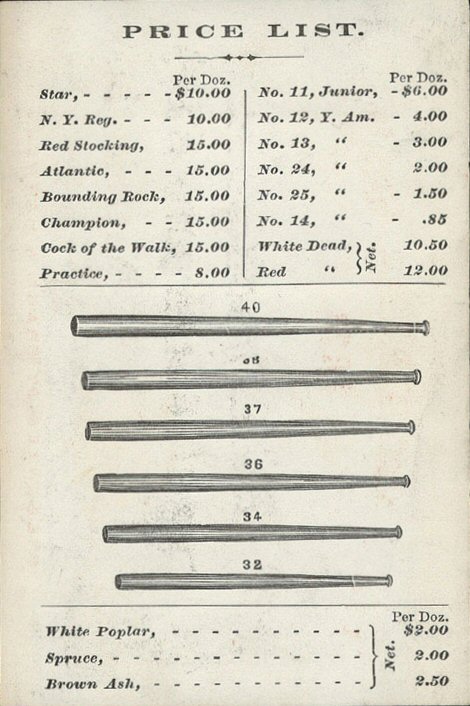 #35 "National Game, 1871-75"
3-1/2 x 5-1/4 inches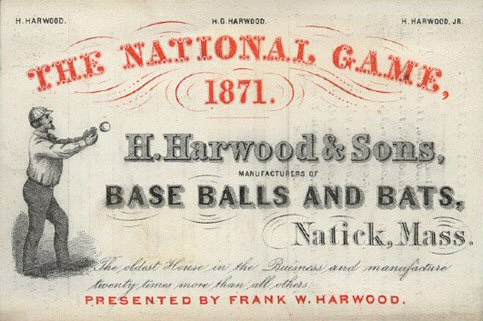 In the early 1870s, H. Harwood and Sons of Natick, MA had established itself as the leading manufacturer of baseballs and bats. To promote their business, they issues a series of trade cards identifying the company's business on front and, in some cases, printing a price list of their products on the reverse.
This card shows a view of a game in progress from behind third base. The card was produced by a baseball equipment manufacturer Harwood & Sons, located in Natick, MA.
The black and white card is titled "Natlional Game." It also shows a date of 1875 although identical cards without the date are also known.


---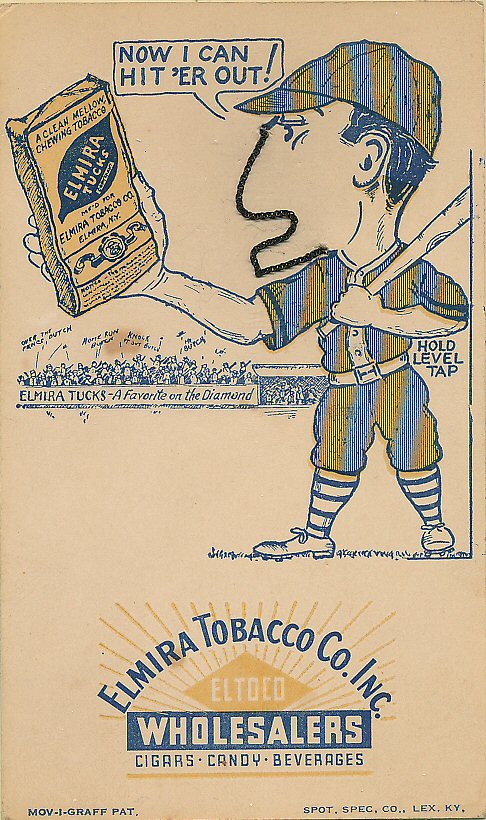 #35b "Now I Can Hit 'er Out!"
3-1/4 x 5-1/2 inches
Novelty card promoting Elmira Tucks Chewing Tobacco--"A Favorite on the Diamond. Very tiny metal chain affixed just below baseball batter's cap and his shirt collar allows customer to move chain to change player's facial expressions. Fans in background.
Instruction below left elbow direct the user to "Hold Level--Tap." Logo at bottom indicates that the sponsor of the card wholesales cigars, candy and beverages. "MOV-1-Graff Pat." printed at bottom left; "Spot. Spec, Co., Lex. KY." at bottom right.


---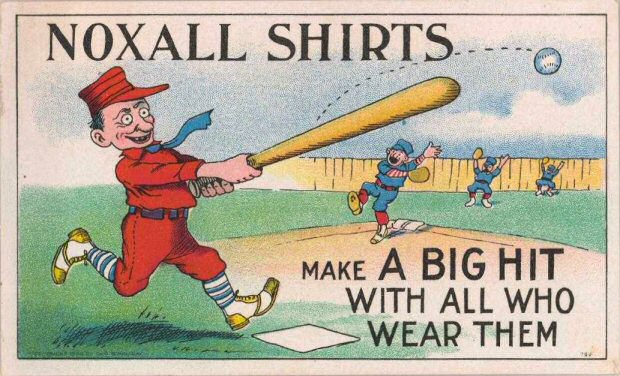 #36 "Noxall Shirts Makes a ..."
3 x 5 inches

This colorful Noxall Shirts baseball-themed trade card was issued in 1909 as a promotion for Noxall Shirts.

The card front (image at right) features a cartoon baseball scene with a red-uniformed batter hitting a long fly ball to an opposing team wearing blue uniforms.

The "Noxall Shirts" title is positioned at top left with "Make a big hit with all who wear them" printed at the bottom. "Copyright 1906 by Geo. B. Haliday" printed in very small type at lower left; number "789" in lower right. No other sponsors are known for this card.

A bold ad with graphics is printed on the backs of all cards with a small space reserved at the bottom for a retailers imprint (see example back at left).
---
#37 "One Ball"
3 x 4-9/16 inches
Several variations are known for this card. While some have the caption "One Ball" at the bottom as shown here, examples without any text on the front are also known (see #201 in the "singles-untitled" section).
The card features a multicolor image of a baby wearing only a baseball cap against a baseball diamond as a backdrop. A baseballl and crossed bats are also displayed.
As shown in the example card, the sponsor was "Corle's Scotch Oats," a brand then owned by W. F. Corle and later acquired by the Quaker Oats Company. The back of this card is blank although other cards are known with additional ad messages printed on the backs.

---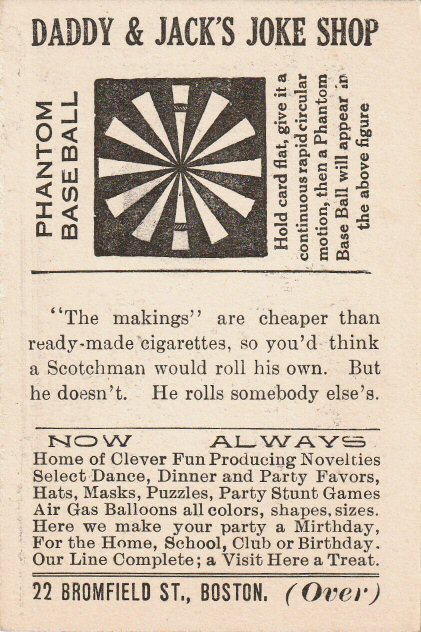 #38 "Phantom Baseball"
2-3/4 x 4-1/4 inches
This novelty card focused on a spinning baseball illustion was use to promote Daddy & Jack's Joke Shop located at 22 Bromfield St. in Boston.
Printed in black and white, the spoked white white image inside a black square is designed to appear as a stitched baseball when rotated.
The card likely dates from the 1930s; the shop survived into the 1st decade of the 21st century before closing.
---
#39 "Play Ball! Play Ball! Make Fence!"
4-1/2 x 5-1/2 inches
This rare advertising trade card featuring a team photo of the circa 1897 Page Fence Giants, a Negro League team sponsored by Page Woven Wire Fence Company of Adrain, MI. It is the only nineteenth-century trade card to feature a Negro League club.
Moreover, the team photo includes Charlie Grant, considered to be among the greatest Negro League players of the period. Led by Grant, the Page Fence Giants won an astonishing 82 games in a row in 1897.
As seen on the card, ten players from the team are pictured in the black and white photo along with their manager. The names and positions for all of them are found in the lower border of the card.
The reverse features the company name, as well as an illustrated section of wire fence below the words "Play Ball! Play Ball!."

---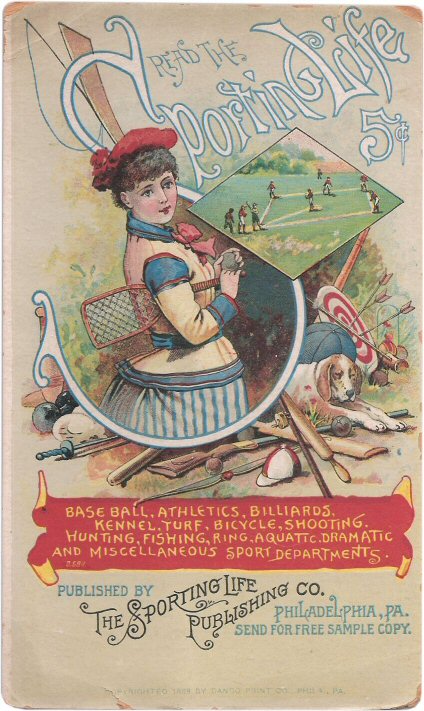 #40 "Read The Sporting Life"
4 x 7 inches
This highly desirable card is sometimes overshadowed by the H804-8 Sporting Life series of 24 cards that are specifically listed in the American Card Catalog.
A lithographed image of a baseball game in process can be seen near the middle of the card, as well as images of equipment from other sports such as tennis, archery, hunting, fishing and more.
Printing on the back explains how to purchase The Sporting Life. The card is printed by Dando Print. Co. of Philadelphia and carries a copyright notice of 1889.

---
#41 "Returning From the War"
5-1/4 x 10-1/4 inches

This oversized card promotes the apparel of Boston mens clothing store "Spitz Bros. and Mork."

Of particular interest is the image, printed in red, of two baseball players in battered uniform shaking hands after a hard fought game. The image is titled "Returning from the War."

Curiously, the image is identical to one of the cards in the Set H804-17 (Blueish-Green Series) titled "Victor and Vanquished" (see example at left).

---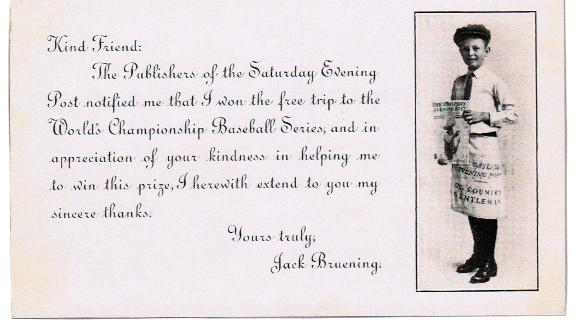 #42 "Saturday Evening Post"
3-1/4 x 5-1/2 inches
This trade card served as a business card and "thank you note" to customers of a newsboy of the Saturday Evening Post who, with a little help from his customers, won a free trip to the World Series.
The card includes a small photo of the newsboy, Jack Bruening, holding a copy of the magazine.

---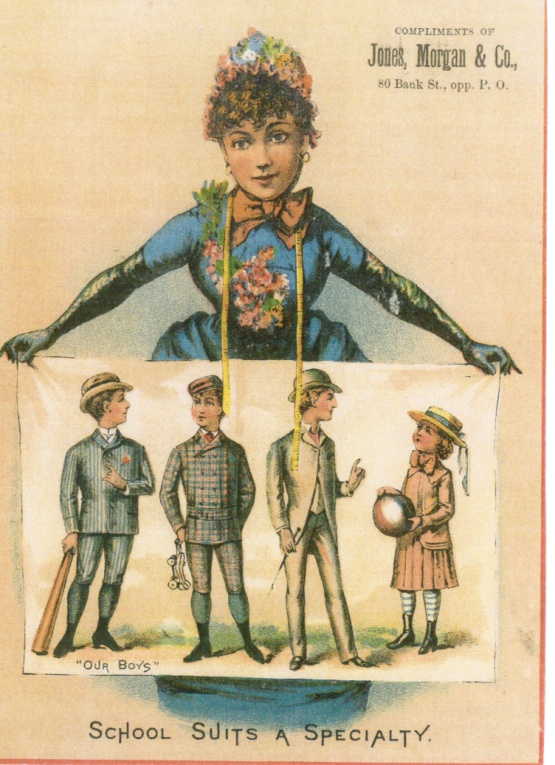 #43 "School Suits a Specialty"
5-1/2 x 7-1/2 inches
Sponsored by Jones, Morgan and Company, a clothing store located at 80 Bank St. in Waterbury, CT, this somewhat oversized card displays the company's line of summer clothes for "Our Boys." The card pictures three boys (one holding a baseball bat) with a girl looking on.
Based on other known (non-sports) cards from the same sponsor, it appears that this card has been trimmed and should be enclosed in a red frameline on all four side with a white border of approximately 1/16 inch.

---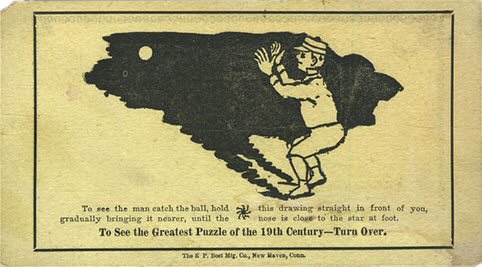 #44 "See the Man Catch the Ball!"
2-3/4 x 5-1/4 inches
This novelty card features a drawing with a player about to catch a baseball. To see the player catch the ball, instructions say to "hold this drawing straight in front of you, bringing it nearer, until the nose is close to the star at foot."

---
This card features a bear peering through a peak hole in a fence, no doubt at a baseball game in progress. On the card back is printed an advertisment for Max Neuburger & Company ("The Fur House"), a furrier on Fifth Avenue and 21st St. in New York City.
The "Seeing" caption on the front of the card (and repeated on the reverse) is a reference to the sponsors claim that "Seeing is Believing" when customers "excercise their sense of sight" in viewing their open display of over 50,000 pieces of fur.



---
#44c "Silver King Base Ball Check Machine"
3-1/4 x 6-1/4 inches
| | |
| --- | --- |
| | Circa 1914 trade card advertising the Base-Ball "Trade Stimulator" machine described below. Both the Trade Card and the Machine are highly collectible among today's hobbyists. |
This circa 1914 trade card is among the most obscure of all baseball-related trade cards. It was used to promote a coin operated "Base Ball Check Machine."

Such machines were referred to a "trade stimulators" because they served to stimulate business by attracting and maintaining customers for other mainstream products of retailers. The machines (using both baseball and non-baseball themes) were popular during the period.

As indicated on the card, this baseball-themed machine was produced by the Silver King Novelty Co., headquartered in Indianapolis, IN. Other manufacturers are known to have produced the machine using the same or slightly modified castings.

A photo of a restored machine is shown at left. As shown on the card and in the photo, a panel at the top displays the "Base-Ball" title of the machine followed by a panel that provides instructions about how to play the game.

The user could activate the machine by inserting from one to five pennies in slots at the upper right, then pulling down a lever on the right side. A rotating reel on the left revealed the results of a spin.

As described on the card, the "payouts" for a successful spin on this trade stimulator was one of four "checks" (tokens) stamped with a "5" (awarded for a single or double; bronze token), "10" (awarded for a triple; brass token), "20" (awarded for a home run; copper token) or "30" (awarded for a "game won;" aluminum token). Each token was the size of a penny (examples are shown to the right).

A "foul ball" or an "out" from the spinning wheel resulted in an instant loss.

Also, consistant with the baseball theme, the words "Play Ball" are cast into the lower portion of the machine.

The machines were often placed on counter tops and functioned loosely as early versions of slot machines. Rather than coins, however, they dispensed redeemable tokens. The machines are classified among coin-op machine collectors as a "trade stimulators" and they accomplished just that--stimulated customers to stay longer and purchase other products (such as cigars, bar drinks, fountain drinks, ice cream, etc.).

In the real photo postcard illustrated below, one of the machines is placed on the counter of a cigar store.
The Base-Ball "Trade Stimulator" pictured in the trade card above is also found
on the counter of this cigar store. Trade Stimulators were popular in the nineteen-teens
to help stimulate trade for a retailer's main products (click to enlarge).
It was up to the establishment to determine what the various tokens were worth to their customers.
Old Cardboard would like to thank Johnny Duckworth for his input and images used in developing this article.
---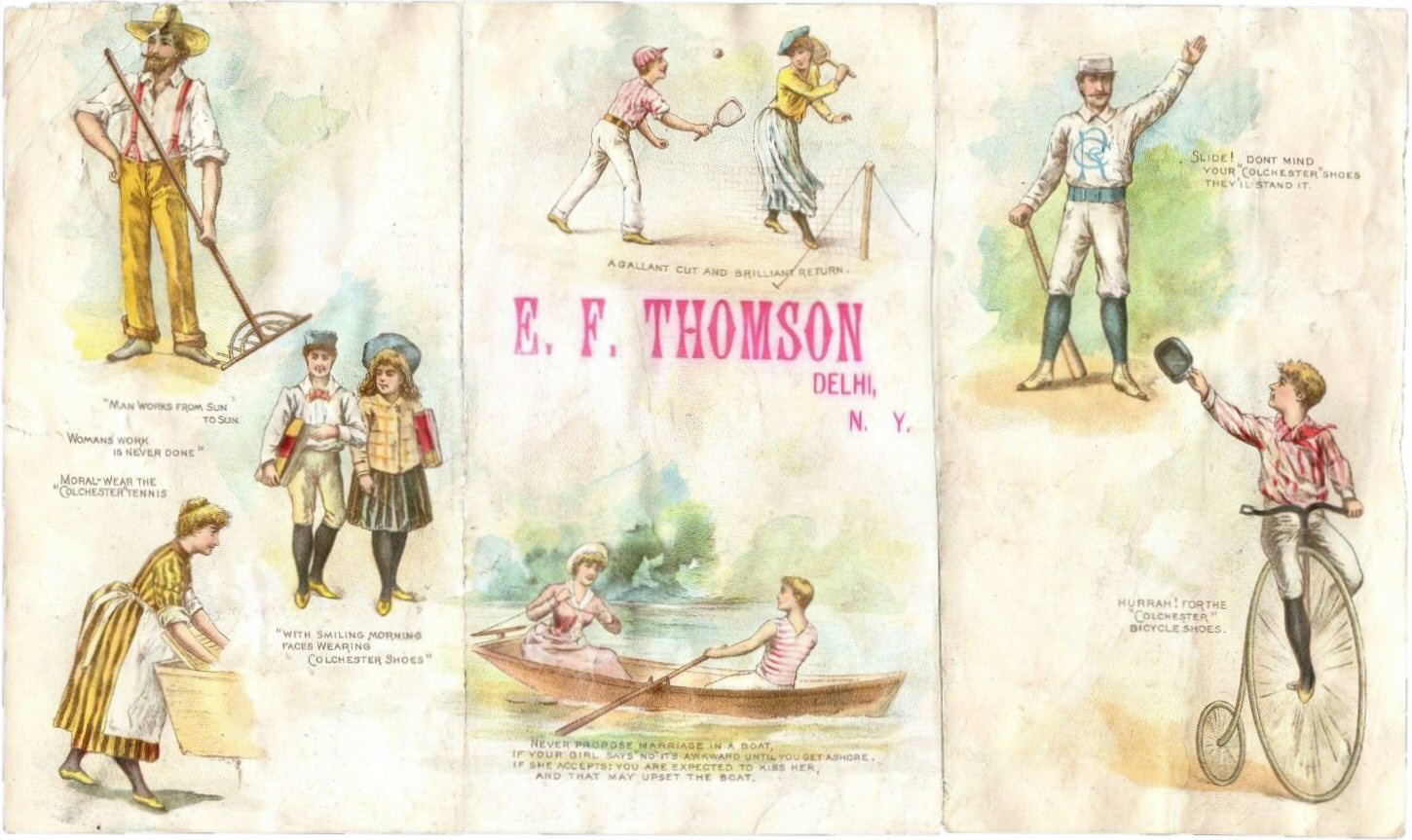 #45 "Slide! Don't Mind Your 'Colchester' Shoes"
3-1/4 x 6 inches
A waiving baseball player with bat in hand is featured in the upper right segment of this three panel card. Other sports represented are bicycling, rowing, and more.
The caption to the side of the baseball player reads: "Slide! Don't Mind Your 'Colchester' Shoes, They'll Stand It.
The reverse of the card pictures the various shoe styles of the sponsor.

---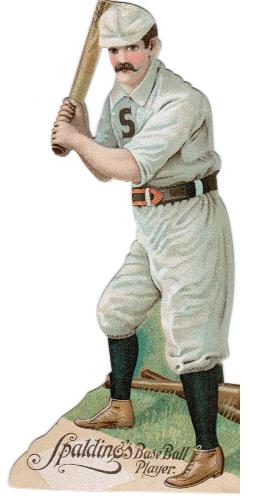 #46 "Spalding's BaseBall Player"
3 x 5 inches
Of the several die-cut baseball-themed trade cards, this one is sponsored by A. G. Spalding & Bros. of New York, Chicago and Philadelphia. It measures 3 inches wide at the base and is approximately 5 inches to top of player's cap. Displays right-handed batter holding bat with letter "S" on his uniform. Two additional bats are on ground behind player. A description of the origins of baseball is printed in very fine print on the back, along with a promotion for Spalding. Printers mark is Koerner & Hayes of Buffalo, NY.
This is the only baseball player in a five-card set produced in 1896 and includes one of the earliest football cards known. The series is listed in the American Card Catalog as Set H818 "Spalding's Sports Players". It is also referenced in the ACC as set Z12 >> Advertising Dolls >> Spaldings Sports.

---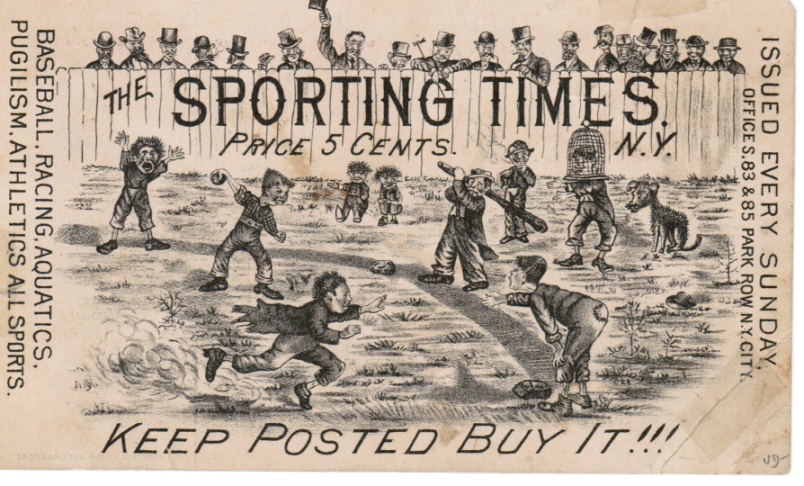 #47 "Sporting Times"
3-13/16 x 6-1/16 inches
This duotone trade card features children playing baseball with a row of adults behind a fence cheering them on.
According to the text on the right edge of the card, the sports paper is "Issued Every Sunday" with offices at 83 & 85 Park Row in New York City.
---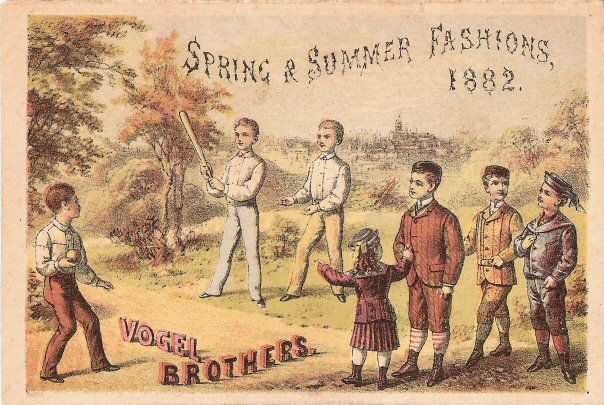 #48 "Spring & Summer Fashions, 1882"
3-1/4 x 4-11/16 inches
This card was the cover of an 12-page pamphlet. The outside covers are full color images. The front is as shown; the back pictures the Vogel Brother's stores in two locations). The interior pages, printed in black and white, highlight several of the company's mens suits and apparel.

---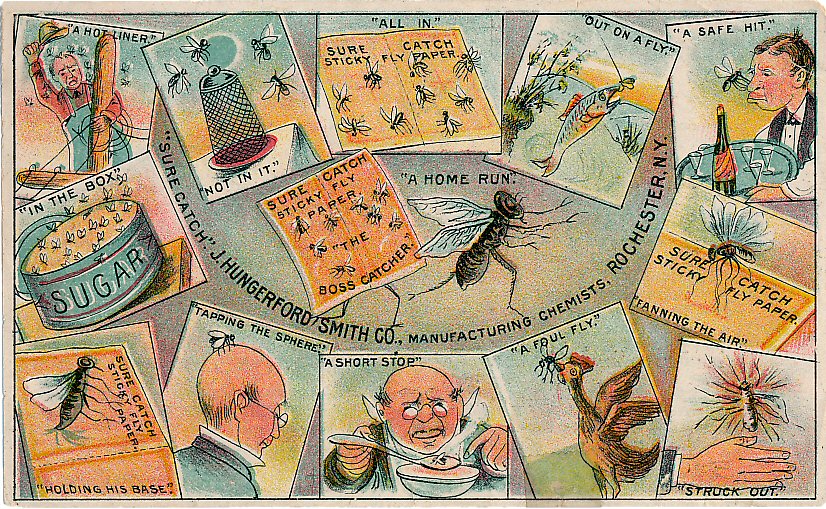 #49 "Sure Catch"
3-1/2 x 5-1/2 inches
This 1894 multicolor card was used to promote the sponsor's "Sure Catch" as the "best Sticky Fly Paper yet produced. Most of the thirteen mini images on the front of the card are captioned following a baseball theme such as "out on a fly," "short stop," "holding his base," "struck out," etc. (select image to enlarge). The card back explains how the product works.

---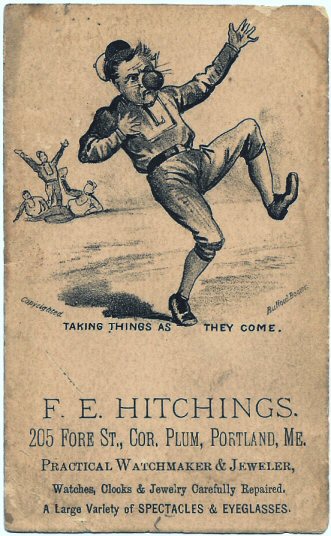 #50 "Taking Things as They Come"
2-3/4 x 4-3/8 inches
All four players pictured on this black and white card are wearing bib jerseys, an indication that it is among the earlier of baseball advertising trade cards. The player in the foreground is being hit in the face with a baseball, over a caption "Taking Things as they Come."
While the sponsor in this example is a jeweler and watchmaker in Portland, ME, other cards of this design are known that carry the imprint of clothiers and other merchants.

---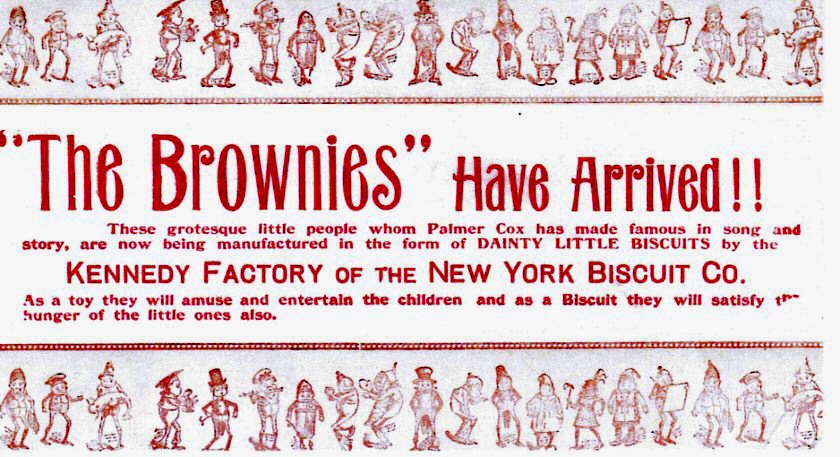 #51 "'The Brownies' Have Arrived!!"
3-1/2 x 6-1/4 inches
Although it is believed that four of the thirty eight "brownies" pictured on this card are posed as baseball players, it is difficult to make them out. If any of our readers can provide a higher resolution scan of this card, it would be much appreciated and we will update this rather poor graphic.
According to Keetz in his 3rd edition, four baseball images appear among these 38 brownie poses with seven larger brownie images on the reverse side. Need to research further.

---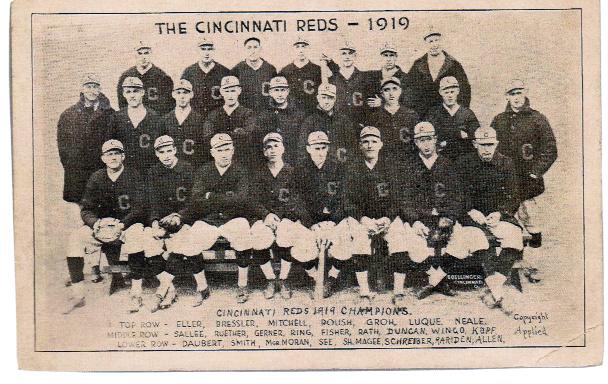 #52 "The Cincinnati Reds -- 1919"
3-3/4 x 6 inches
The Cincinatti Reds, the team that defeated the Chicago White Sox in the "Black Sox" scandal of 1919, is featured on this card.
The contents of the card back are currently unknown, so the sponsor of the card or what they were promoting is unclear. Any feedback from our readers will be most welcome.

---
#54 "The Haas Remedy Nine Defeats the Cholera Nine Every Time"
2-15/16 x 4-7/8 inches
The focus of the card is not only a promotion for a remedy for cholera in pigs (aka swine fever), but for pig health insurance as well!
The product (Haas Hog Remedy sold by Dr. Joseph Haas based in Indianapolis, IN) is described on the card back as a sure cure for the contagious and often fatal disease. But if the customer uses the his remedy, Haas will also insure the pigs against death for a "small additional fee per head." The insurance is only available, however, after an examination shows there are no pre-existing conditions.
The morbid scene on this card pits the Haas Remedy Nine against the Cholera Nine (with, of course, the Haas Nine winning every time). The message on the fence in the background claims that "Haas' Hog Remedy Prevents Cholera." A printer's credit ("Wm. B. Burford, Lith. Ind.") is found in the lower right margin and the number "103" is printed inside the image in the lower right corner. "Over" is printed in the bottom right border to guide the viewer to the message on the back of the card.
---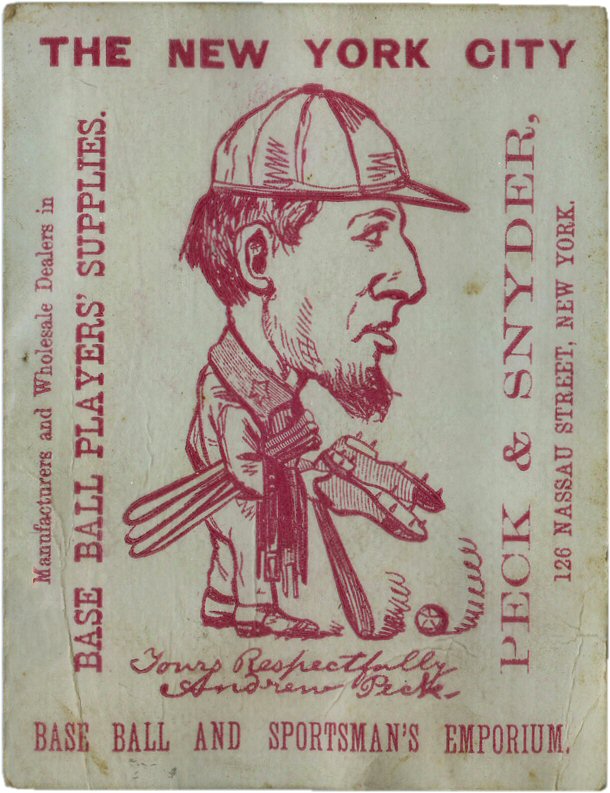 Peck & Snyder (back)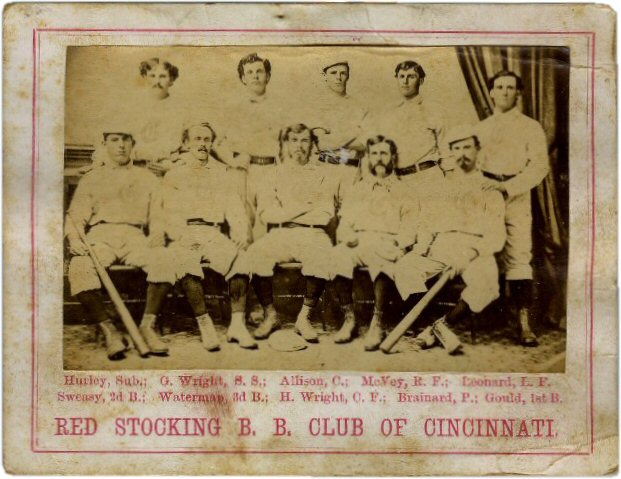 1869 Peck & Snyder (front)
#55 "The New York City Base Ball Sportsmen's Emporium"
3 x 4-1/4 inches
Generally known in the vintage hobby as the "Peck & Snyder" trade cards, these cards are beyond doubt the most valued of all victorian trade card issues. ...
Reference:
1) "1869 Peck & Snyder Trade Card Grabs National Spotlight," Old Cardboard eNewsletter, Issue #58 (February 2009), Item #4

---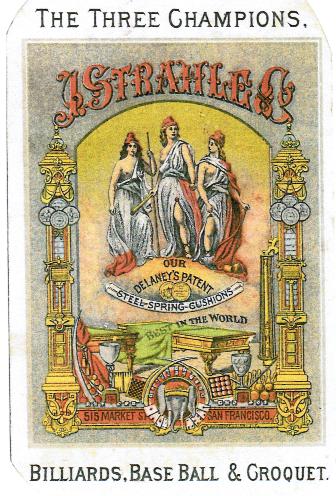 #56 "The Three Champions, Billiards, Base Ball & Croquet"
3-1/4 x 5-1/4 inches

This ornate mullticolored card features three toga clad women. They are holding a billiard cue, a baseball bat and a croquet mallet, respectively.

The card's sponsor, Jacob Strahle & Co., produced billiard tables and sporting goods. The company was located at 515 Market Street in San Francisco. At left is an advertisement the company placed in the 1890 San Francisco city directory (click to enlarge).
---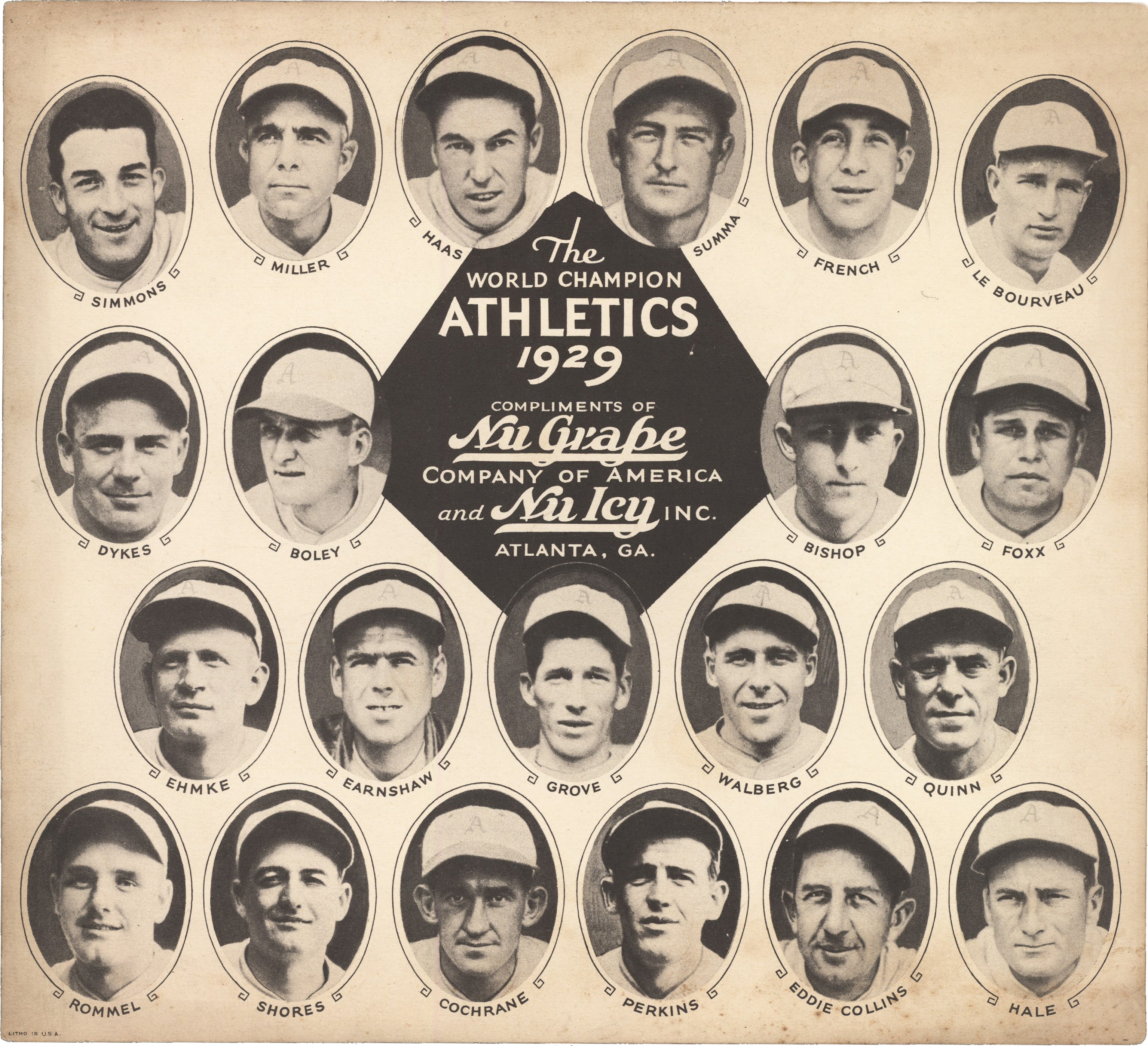 #57 "The World Champion Athletes of 1929"
9-1/4 x 10-1/4 inches
This card was provided "Compliments of NuGrape Company of America and NuIcy, Inc., with headquarters in Atlanta, GA.
Somewhat larger (9-1/4 by 10-1/4 inches) than traditional trade cards, it features 21 members of the 1929 World Champion Philadelphia Athletics team.



---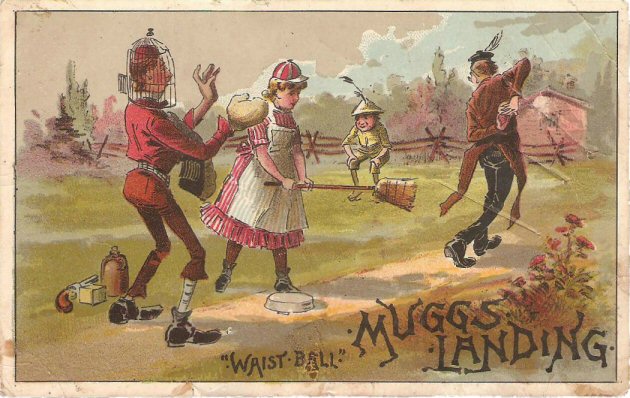 #58 "Waist Ball."
3-1/4 x 5-1/4 inches
Titled "Waist Ball," this multicolored trade card features four foolishly dressed players in a game setting.
A girl is at bat with a broom for a bat; the catcher with caged head for protection and an infielder is wearing a Chinese hat. A tin pie-pan is used for home plate while a whisky jug and pistol lay on the ground next to the catcher.
The trade card was printed to promote Muggs Landing, a popular vaudville comedy act of the mid-1880s.

---
#59 "Wanted, A Pin"
3-1/2 x 5 inches
A bit on the humorous side, this card titled "Wanted, A Pin" features a young player who has ripped his trousers and is looking for a safety pin to put it back together.
Another of the four boys pictured on the card is holding a mirror from behind to help assess the damage.





---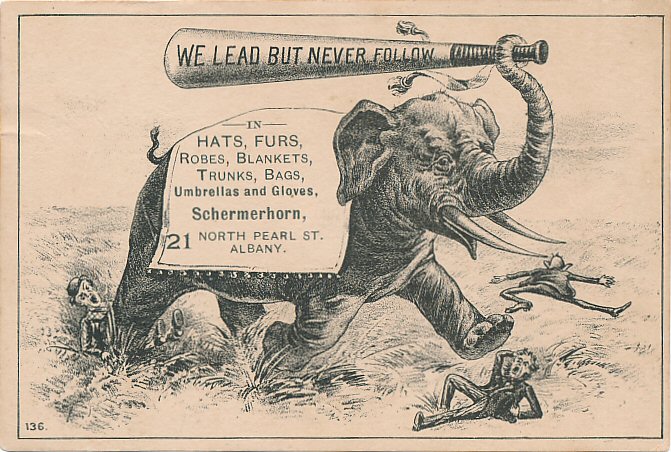 #60 "We Lead but Never Follow"
3 x 4-1/2 inches
Card promoting Schermerhorn Hatter and Furrier store located at 21 Perarl St. in Albany, NY. Charging elephant with bat on front; "136" printed in lower left corner. Details printed on back also state that "Sleigh and Carriage Robes, Horse and Lap Blankets" are also sold.

---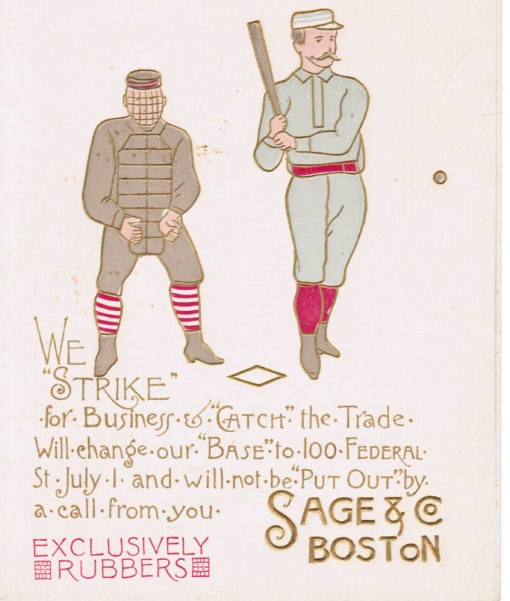 #61 "We 'Strike' for Business ..."
4-11/16 x 5-1/2 inches
Trade card used to announce the July 1 (year not known) relocation of "Sage &Co., Boston to 100 Federal St.
The embossed card features a gloveless catcher waiting for ball to pass batter. Baseball themed caption reads: We "Strike" for Business to "Catch" the trade. Will change our "Base" to 100 Federal St. July 1 and will not be "Put Out" by a call from you.
Sage & Co. of Boston was founded by W. L. Sage and in the 1890s became the first in that area to engage exclusively in the rubber footware trade.



---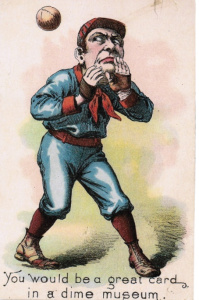 #62 "You would be a great card in a dime museum"
4 x 6 inches
This card features a gloved player in red and blue uniform about to catch a ball.
The meaning of the caption "You would be a great card in a dime museum" is not immediately apparent. Would any of our readers like to offer any insight?






---
End of Keetz "Trade Cards With Titles" Listing
Beginning of Additional Entries
---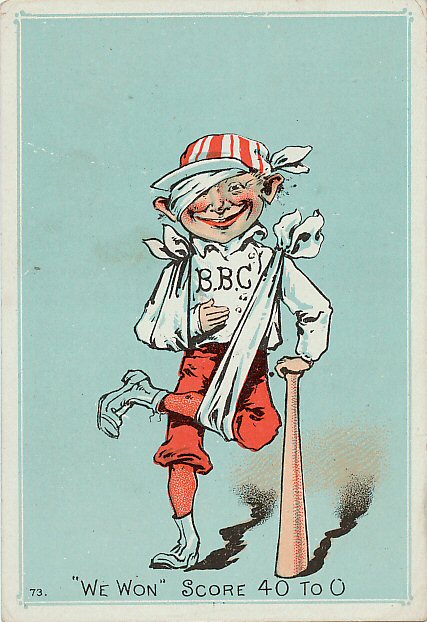 #101 "'We Won' Score 40 To 0"
2-7/8 x 4-1/8 inches
This humerous card shows a drawing of a battered but apparently very happy player, still in uniform, after winning a baseball game by a score of 40 to 0. A small "73" is printed in the lower left corner of the card.
The card is designed with space at the top to stamp a sponsor's imprint. However, since there is no sponsor printed on this card and the back is blank, little additional information is known about the card or its sponsor.



---
#102 "Nellie Rowland (actress)"
2-7/8 x 4-1/8 inches
Sponsored by a Wilmington, DE clothier, this card highlights a promotion in which a "Baseball, Bat and Cap" are given to every purchaser of a boy's suit.
Picturing an apparent actress of the late nineteenth century of whom nothing is now known, the card at first glance does not appear to have a title and would therefore not fit the criteria to be classified as a trade card in the "Singles--Titled" category. But after a closer look (click on image to enlarge), a card title is seen as the name of the featured photo of "Nellie Rowland."
An Internet search for "Nellie Rowland," reveals the same image (also inside the oval) in an album collection dated 1885.

---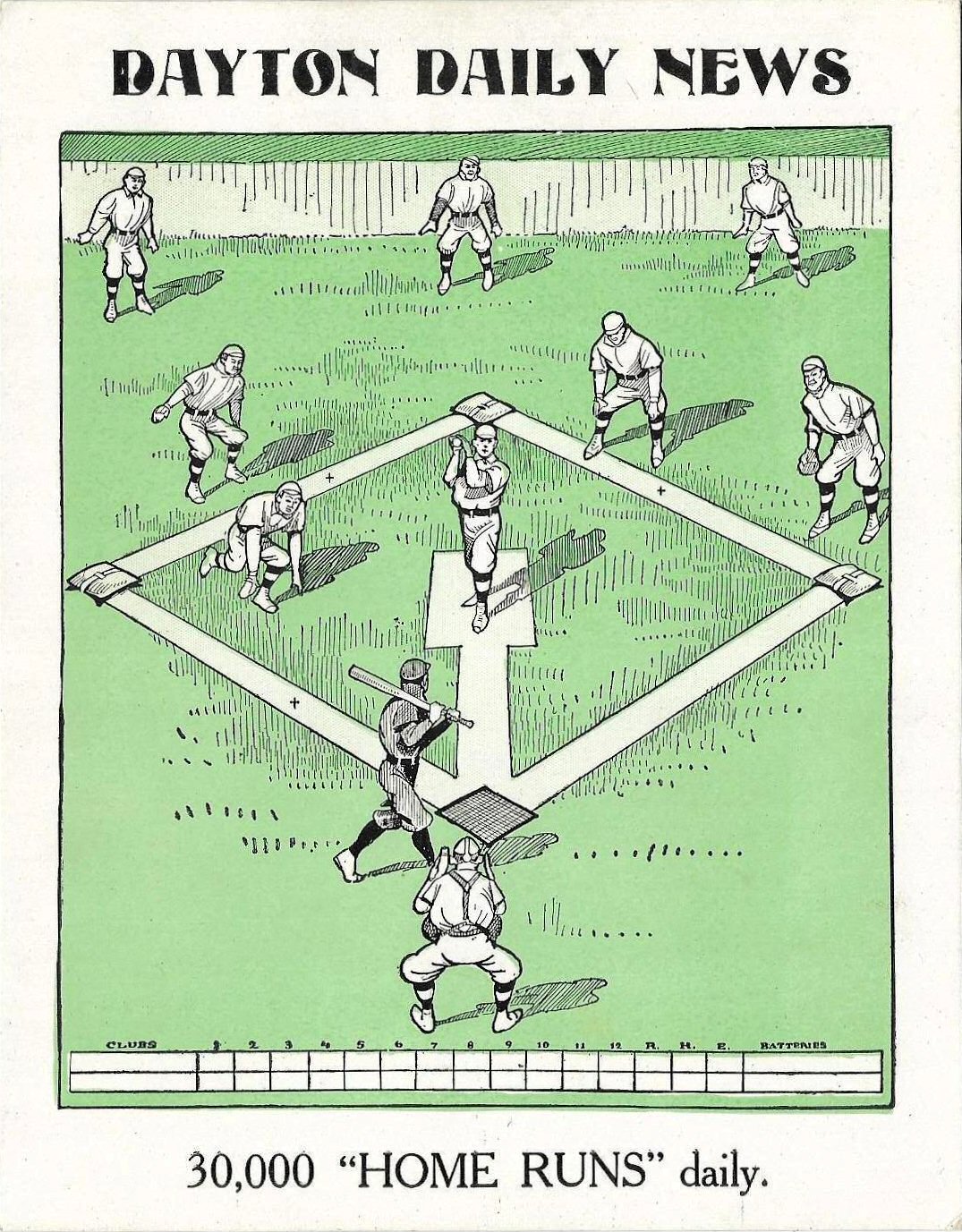 #103 "30,000-home-runs-daily"
about 3 x 3-1/2 inches
The Dayton Daily News sponsored this card, no doubt to focus on its then circulation of 30,000 readers.
The card features a black and white drawing with green background of a game in progress. A mini scorecard is also printed near the bottom of the card.




---
#106 "Barb Fence Armor"
3-3/8 x 6 inches
This very rare 1876 Washburn & Moen "Barb Fence Armor" trade card features the Boston Base Ball Grounds (aka South End Grounds).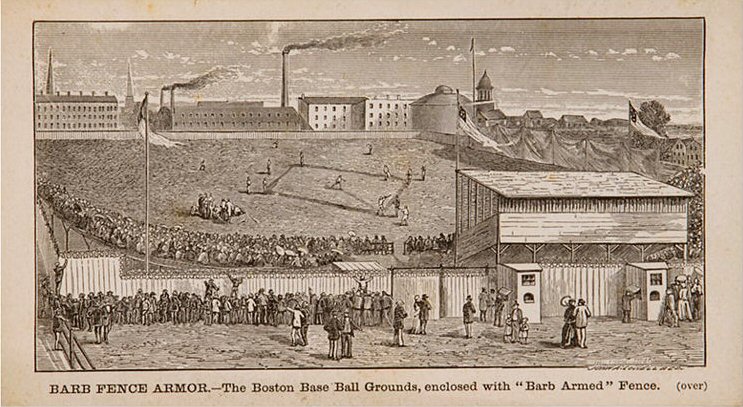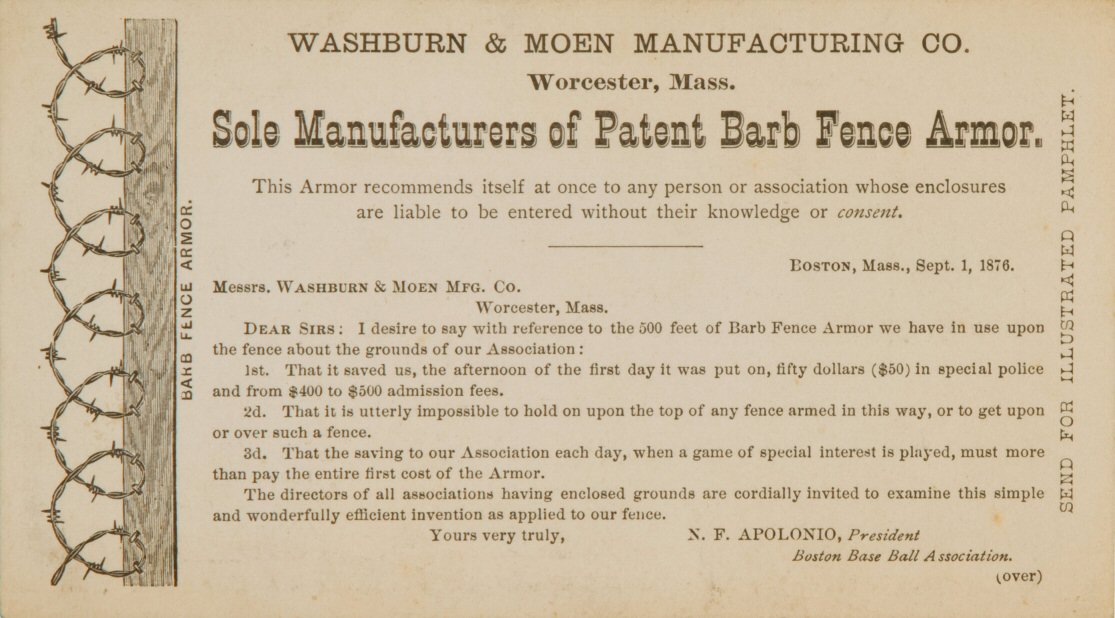 As illustrated in the woodcut above, the use of the barbed-wire atop the perimeter fence of the grounds appears to me keeping the spectators not paying admission outside the field.
Text on the back claims that on the first day after installing the wire, the Boston Base Ball Association saved $50 in special police and $400 to $500 in admission fees.

---
#107 "A Home Run"
5-3/4 x 7-1/4 inches
A rare and colorful trade card from the 1880s used to promote a theatrical performance at the "Grand Opera House." Because many cities had "Grand Opera" houses in the late ninteenth century, it is not known exactly where the one promoted here was located.
The baseball themed graphic on the card depicts gloveless players and is captioned "A Daisy Cutter."
As noted on the card, the performance entitled "A Home Run" was enacted in "3 acts and 10 innings" and featured "new scenes, new songs, and new music." It is claimed to be the "Cleverist Satire of the Season."

---